Students in Laurier's Department of Kinesiology and Physical Education are in for a surprise when they visit the lab this term. 
Besides the plastic models and textbooks they're used to seeing, they'll also find Sara and Rita, two hyper-realistic synthetic cadavers. The models, the very first full-sized synthetic cadavers in Canada, according to the Florida-based manufacturer, SynDaver, are complete with every bone, joint, muscle, organ and tendon found on the human body in vivid and colourful detail, as well as major parts of the nervous and vascular systems. Tendons, muscles and organs can be manipulated, dissembled and reassembled so students can learn how parts work together. The models don't just look real, they feel real too. Made out of plant fibre and water, the bodies are continually soaked in water to retain their lifelike moisture and texture.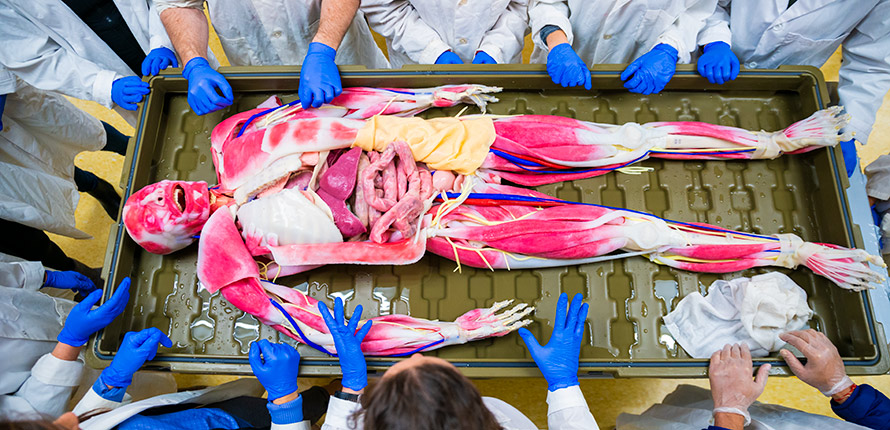 "You don't memorize anatomy, you learn it by doing, by getting involved," says Michael Cinelli, associate professor of Kinesiology and Physical Education. "Without these cadavers, this lab is models and books. Students are staring at books and models and it's just not as engaging. You put something like this in and a two-hour lab will fly by."
Sara and Rita, purchased by the Faculty of Science through the Strategic Academic Plan Advancement Fund, will be used throughout the year by students in undergraduate anatomy and physiology classes. In past years, Cinelli, Diane Gregory and other professors would take a few students every term to visit human cadaver labs, "but it was limited to maybe 60 students out of 300 and it was two hours out of the whole term," says Cinelli. "These models will be part of their program and will be available every week."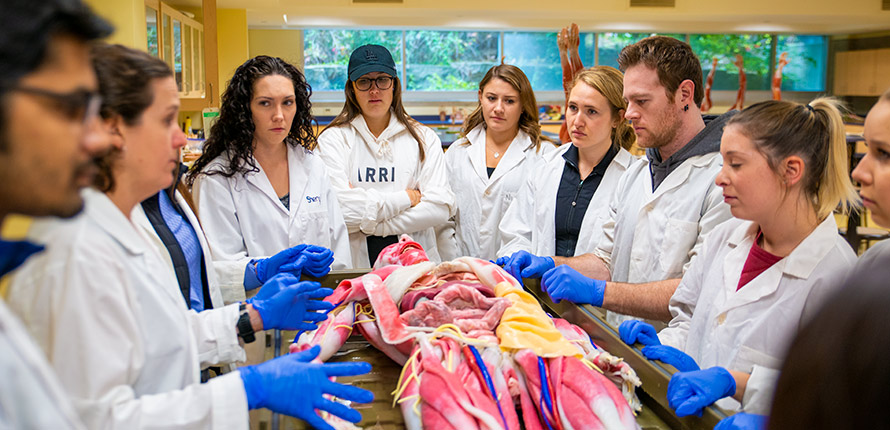 Because they're synthetic, they don't require the same facilities as a true cadaver lab, such as refrigeration, ventilation and drainage systems. They're also safer, since students and faculty aren't exposed to chemicals like formaldehyde, and can last indefinitely, if they're well maintained. Real cadavers need to be treated with great respect and dignity, says Cinelli, but using synthetic cadavers means the lab can invite in younger students with fewer concerns. The Faculty of Science plans to invite high school students to visit the labs and see the cadavers through an outreach program in partnership with the University of Waterloo's School of Anatomy.
 "These cadavers are an incredible resource for the university," says Gregory. "Anything we can provide in-house strengthens the program and strengthens the experience students have."
The synthetic cadavers will be on display at recruitment events, including at Laurier's Waterloo Fall Open House on Nov. 3.
Read The Record's coverage (Nov. 1): Meet Rita and Sara, Wilfrid Laurier University's synthetic cadavers