On April 30, nearly 100 professionals from Toronto's booming financial services and banking industry got together at the Laurier Toronto office for the annual Laurier Finance Meet-Up.
The evening of food, drinks and music provided Lazaridis School alumni and non-alumni alike with the opportunity to network with and engage with other professionals in their field.
Included in the crowd were working professionals who were considering applying to the Lazaridis Master of Finance program in downtown Toronto.
"This program has everything I'm looking for," says Jeff He, Financial Analyst at Manulife. "I already have a master's degree in accounting, but have come to realize that finance is where my passion lies. The Lazaridis MFin program looks like an excellent option for me; classes are held right around the corner from my office."


"These meet-ups are a great way for the Lazaridis School to engage with program alumni while also showing prospective students the added value of joining the Laurier community," says MFin Program Director, Tony Tang, PhD. "When you enrol in the Lazaridis MFin program, you gain another family, one dedicated to helping you expand your professional network and moving you forward in your career."

The skills that students develop in the Lazaridis MFin program are in very high demand. According to the Financial Times, the Master of Finance designation is one of the most sought-after degrees in the world right now.
Lazaridis MFin '18 grad, Grace Tian credits the program with launching her career in finance.
"I started my career in statistics in Shanghai but quickly realized I wanted more. There was a whole world of possibilities I wanted to experience and decided to enrol in the Lazaridis MFin program as a way to expand my career horizons. As an international student new to finance, the Lazaridis MFin program was the start of a whole new life for me. It helped me build my professional network, make friends and grow as a professional."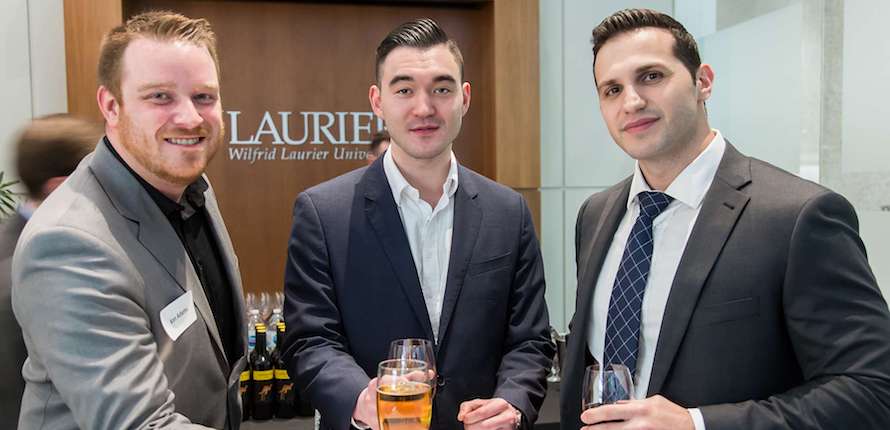 The Lazaridis School offers the MFin in Waterloo (full-time with co-op option) and downtown Toronto (alternate weekends). For more information, contact us here. Applications for the Lazaridis MFin Toronto program are currently being accepted.

To see more pictures from the 2019 Laurier Finance Meet-Up, visit our Facebook page.