On April 5, dozens of people met in an office tower in the heart of Toronto's financial district. Despite coming from different educational backgrounds, career paths and places, they all had at least one thing in common – they were the newest class of MBA candidates of the Lazaridis School of Business and Economics in Toronto.
Engineers, sales reps, supply chain managers, accountants, journalists and bankers were just a few of the professions represented by this year's cohort which MBA Associate Director, Brad Davis, PhD says is one of its strengths.
"The part-time Toronto program offers access to a diverse network of professionals for you to learn alongside. Engaging with these different backgrounds and skill sets exposes you to new ways of thinking and experiences. It helps develop your intellectual flexibility as well as broadening your professional network."
What's inside sets us apart
In addition to an expanded rolodex of contacts, the Lazaridis MBA program offers a challenging and thought-provoking curriculum delivered by top-tier faculty. The format of the Toronto-based program also distinguishes itself by delivering small classes on weekends to allow candidates to work full-time while they earn their degree.
"For the past 20 years, the Lazaridis MBA program has thrived in Toronto because it is able to provide the perfect work-life-learning balance to our students," says MBA Program Director, Mitali De, PhD.
"We were the first to offer the integrated core of first-year classes, which is now the model for many other MBA programs. The lessons and projects you will be exposed to can be applied immediately to your career, there's no need to wait for graduation to start moving forward."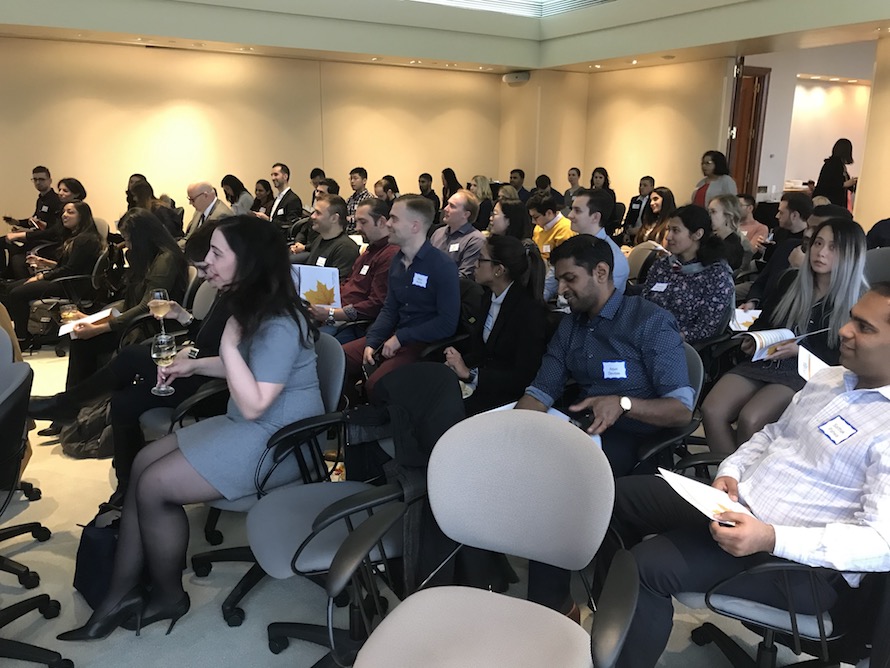 Take it from someone who's done it
After the reception and welcoming remarks, MBA Associate Director Al Foerster, PhD invited the brood of Golden Hawks was invited to hear about the experiences of someone who was sitting where they were just a few short years ago.
Lauren Miele, Lazaridis MBA '18 thought her career would take place in a newsroom. Graduating with a degree in journalism, Lauren hoped to one day become a news anchor but quickly realized the more traditional career paths in news media were becoming harder to follow.
"Like so many people who decided to earn an MBA, I was looking to enhance my business acumen, which I felt would be a great compliment to my communications background. The Lazaridis MBA program was the right fit for me because it offered a flexible schedule that allowed me to work full-time and had a great reputation for having a very committed family of alumni. I immediately felt like I was at home right from the first info session," says Lauren.
One info session and three years of hard work later, Lauren is Vice President, Marketing and Customer Strategy at TD Securities. "It was important for me to have three things I wanted to accomplish by the end of the program," says Lauren. "Build my professional network in Toronto, upgrade my business skills to make myself more marketable to the industry and earn a valued and recognized credential; the Lazaridis MBA program let me achieve all three of those objectives."
Lauren offered words of encouragement and advice to those just starting out in their MBA careers. "It will be challenging, but if you remember why you're here and commit to achieving that goal, you can do it. Rely on each other, build each other up and welcome to the Lazaridis MBA family."