Undergraduate business students in Wilfrid Laurier University's Lazaridis School of Business and Economics won first place at the 2020 JDC Central Competition (JDCC) hosted by Goodman School of Business at Brock University in St. Catharines, Ontario.
This is the eighth time Laurier has earned the top 'School of the Year' title and the fifth time that Laurier has won the 'Academic Cup'. The team held the 'School of the Year' title for seven consecutive years from 2010-2016.
JDC Central is the largest undergraduate business school competition in Central Canada with more than 700 student delegates from Ontario, Québec and the Maritimes. Lasting three days each winter, JDCC is a multi-faceted competition including academic cases for eight business disciplines, parliamentary style debates, sports tournaments, social competitions and charity contributions.
The team of students was led by third-year Bachelor of Business Administration (BBA) student Prity Naik, a graduate of Gordon Graydon Memorial Secondary School in Mississauga.
 "The goal is always to win, but at the end of the day, every school comes to JDCC prepared. I just asked the team to give it their 110% in terms of spirit, effort and work ethic. If we did that, we already won," she said. "The 2020 team rallied around that sentiment and came together to bring the title back to the school after our short hiatus – their energy and efforts truly paid off.
"As each category was being called and we kept placing, first charity, then debate, social, then finance, etc. the closer we were getting to the end of the awards the team could feel it – this was going to be our year." Naik said, "Not only did we win school of the year and academic cup, we placed in every academic category except wild card."
The team practiced every Sunday of fall term. Sofy Carayannopoulos, faculty coach and associate professor of policy and alumni coaches Srin Sridharan, BBA/BMath (University of Waterloo) '14, partner, Waypoint Investment Partners, Sean Cameron, BBA '15, product manager, Beverage Innovation, Starbucks and Eoin Ferguson, BBA '16, analyst, M&A Divestitures, Deloitte Canada, worked with students on financial analyses under pressure, compelling storytelling, and presentation skills.

The team participated in a case each week consisting of a three-hour, internet-free resolution and a 20-minute presentation.

"Thank you to our coaches for their dedication to the team, to our students, and to the Lazaridis School's legacy," said Carayannopoulos. "The expertise, experience and enthusiasm the alumni coaches bring is an incredible piece of the JDCC magic. The coaches not only give their Sundays with the team to coach and practice, they also accompany delegates to our international case competitions."

With one year left of her degree, Naik says: "JDCC has been the greatest opportunity, social and learning experience of my years in BBA. Being captain was a rewarding privilege and one of the hardest things I have done, but I would do it again in a heartbeat for this team. If you want to be working with some of the greatest coaches, alumni and students, develop skill sets that will directly benefit you in the work environment and build your case, storytelling, technical and soft skills join Laurier's JDCC team."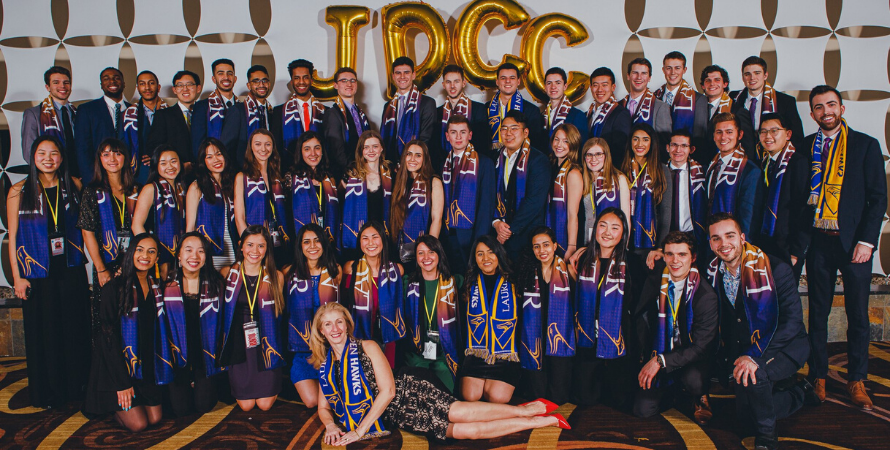 2020 Results
Here's an overview of the numerous wins of the Lazaridis student team at the JDC Central Competition that took place Jan 3-6, 2020:
Overall
School of the Year – 1st Place 
Academic Cup – 1st Place
Academic Categories
Accounting – 2nd Place
Team: Kyle Collins, Colin Prentice, William Tieu
Business Strategy – 1st Place
Team: Adam Figura, Kathryn Poretta, Maggie Sutherland
Digital Strategy – 3rd Place
Team: Bradley Edwards, Katherine Gotovsky, Andy Zhang
Entrepreneurship – 3rd Place
Team: Katarina Granic, Grant Meaney, Ian Saunders
Finance – 2nd Place
Team: Alex Clayton, Ryan Kofsky, Adam Yoshida
Human Resources – 2nd Place
Team: Rona He, Megan Murphy, Ruby Tang
International Business – 2nd Place
Team: Megan Corbett, Eva Lin, Sophie Ziomecki
Marketing – 2nd Place
Team: Patrick Gleason, Leanne Hirabayashi, Angela Zhou
Non-academic Categories
Debate – 1st Place
Team: Ben Campbell, Matthew Donovan, Areez Kanji, Sanjani Mithani
Charity Dollars Raised – 1st Place
Luke Merriman
Social – 3rd Place
Team: Matthew Georgiadis, Mahahil Masud, Natasha Newwell, Myles Vita-Finzi
2020 Participating Universities
Bishop's University, Williams School of Business, Sherbrooke, QC
Brock University, Goodman School of Business, St. Catharine's, ON
Carleton University, Sprott School of Business, Ottawa, ON
Concordia University, John Molson School of Business, Montreal, QC
Dalhousie University, Rowe School of Business, Halifax, NS
McMaster University, DeGroote School of Business, Hamilton, ON
St. Francis Xavier University, Gerald Schwartz, Antigonish, NS
University of Guelph, Lang School of Business, Guelph, ON
University of Ottawa, Telfer School of Management, Ottawa, ON
Wilfrid Laurier University, Lazaridis School of Business & Economics, Waterloo, ON
York University, Schulich School of Business, Toronto, ON
Past Winners
School of the Year
2019: Brock University, Goodman School of Business
2018: JDCC cancelled
2017: Brock University, Goodman School of Business
2010-2016: Wilfrid Laurier University, Lazaridis School of Business & Economics
Academic Cup
2019: Concordia University, John Molson School of Business
2017: Brock University, Goodman School of Business
2016: Dalhousie University, Rowe School of Business
2012-2015: Wilfrid Laurier University, Lazaridis School of Business & Economics