Reading week is typically a time for studying, catching up on projects, and prepping for exams. But for Simrit Randhawa, this term's reading week was an opportunity to showcase the Lazaridis School of Business and Economics at Wilfrid Laurier University to students from 16 of the world's top business schools during the 2022 Lazaridis International Case Conference (LazICC).  
The week-long case conference, from Oct. 9–15, brought 60 undergraduate students from across the globe to Waterloo to compete in two live cases, network with leading organizations and experience Canadian and Waterloo culture. 
This was the first in-person LazICC since the pandemic and included students from the Budapest Business School, Chinese University of Hong Kong, McGill University, Concordia University, University of California Berkeley, Universidad Panamericana, Rotterdam School of Applied Science, Simon Fraser University, Technical University Munich, Technical University Dublin, University of Hong Kong, University of Porto, University of Technology Sydney, University of Southern California, University of Vermont, and the home team—Wilfrid Laurier University. 
This year's winning team was from the University of Technology Sydney, with second place going to the University of California Berkeley and third place going to the University of Vermont.
Randhawa, a fourth-year Bachelor of Business Administration (BBA) student and president of LazICC, led the team of Laurier students who organized and ran the competition. She said the small campus, big impact culture of Laurier was one of the key reasons she applied to the university.  
 
"You're not just a number. You're actually making an impact. This conference has been building for the past five years and we're well known now. We have 16 schools and 15 sponsors—that shows that we're putting LazICC on the map," Randhawa said. 
She added that LazICC is more than a case competition. It is an opportunity to showcase the Lazaridis School and Waterloo and create connections between students from the participating schools.  
 
"LazICC is a full conference where we engage the students in social events. When they arrived on Sunday, we hosted a Thanksgiving dinner along with the opening ceremonies that helped people meet and mingle. On Monday, we took them to Niagara Falls to explore an internationally known part of Canada and bond with their teams and their Lazaridis ambassador. On Tuesday, we engaged in pumpkin carving and a board game night to continue the social interaction and it was a huge hit," Randhawa said. 
 
Each school is assigned a Lazaridis School student as an ambassador who leads them through the week. There are opportunities throughout the week to network and learn about the city, the university, and the LazICC sponsors. The conference's theme is business and technology, and top-tier sponsors had an opportunity to present how technology influences their business.  
 
"The students and sponsors get to network and learn. There's always a lot of engagement between the sponsors and the delegates—and we also opened that networking session up to other Laurier students. We had over 300 [Laurier students] attend," Randhawa said. 
 
In addition to being the first in-person LazICC since 2019, it was Randhawa and her team's first time organizing the event. Before taking on the lead this year, she was part of the 2020 and 2021 virtual events organizing committees. She said they could rely on their advisors, Sofy Carayannopoulos, an associate professor of strategic management in the Lazaridis School, and Brett Bertrand, BBA '22 and LazICC president from 2020-21, as well as the work done by the 2019 organizing team. 
 
"The biggest shift was being able to recognize that we had to put ourselves in an in-person mindset. Luckily, there were a lot of assets that the 2019 team made, so we used those to our advantage. Our advisors, Sofy Carayannopoulos and Brett Bertrand guided us through the process," Randhawa said.  
 
Bringing students from the 16 schools to Waterloo is a fantastic opportunity to connect, learn, and compete. Randhawa said that she noticed a significant difference in energy between the virtual events and this year's in-person event.  
 
"You're in an environment where everyone has the same passion, eagerness, and excitement for the cases. They're not just here for the competition, they are here to make friends. One thing that we joke about is the way you make friends from these competitions, you have a lot of couches to sleep on around the world," Randhawa said.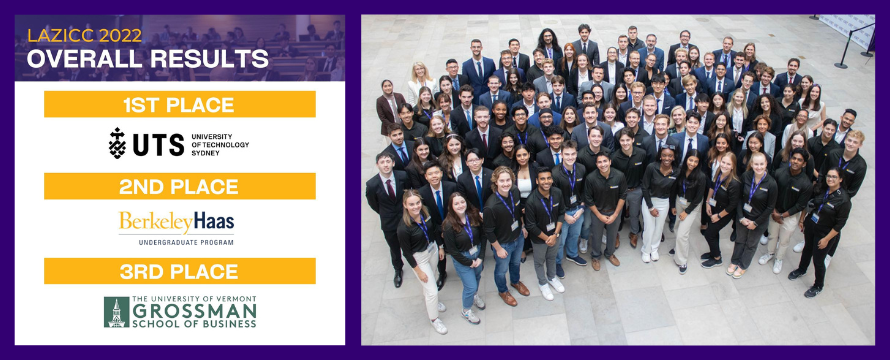 LazICC, is a week-long business-technology themed case conference for post-secondary students. Top undergraduate students from across the globe come together to compete in to two live cases, network with leading organizations, and experience Canadian and Waterloo culture. The conference is a unique combination of learning, networking, and competing. To learn more about LazICC, stay up-to-date on future plans, or learn how to get involved, visit LazICC.com or check out their social channels @LazaridisICC.