Putting classroom learnings into real-world action is a core part of our programs at the Lazaridis School of Business and Economics at Wilfrid Laurier University. A perfect example of this is one of our flagship opportunities in the Master of Business Administration (MBA) --the annual Live Integrated Consulting Exercise (ICE).
This year's business problem was presented by Friendlier, a Waterloo-based startup that provides a solution to reduce single-use plastics in the foodservice industry. Four finalist teams presented growth strategies and tactics to the Friendlier Company co-founders to help sustain and escalate their growth. 
The winning team focused on strategies to recruit Ontario universities to adopt the Friendlier system and replace thousands of single-use plastics each year. Over its lifespan, one reusable Friendlier container can eliminate 100 single-use plastic containers. In fact, a number of Ontario universities (including Laurier) have experimented with reusable container programs without success. Friendlier brings an operation which eliminates the issues that schools were unable to overcome and satisfies student demands for a more environmentally friendly campus. 
Each year, Live ICE features a company at a different growth stage. Friendlier is a relatively new business looking for growth strategies. Brad Davis,  associate professor in marketing and associate director of Lazaridis MBA programs, said companies who participate in Live ICE are often looking for different perspectives on the market. 
"These companies come to the Live ICE competitions seeking ideas that maybe they hadn't thought about in terms of new market segments to address or new applications of the products," Davis said. He added that the Friendlier management team were pleased to be presented with some new approaches that weren't previously on their radar.  
"Our MBA candidates typically have business experience which they can bring to the exercises without any preconceptions. That fresh vision helps spot new approaches, new opportunities, or adds depth to existing ideas. Sometimes even reaffirming that a company seems to be on the right track can be valuable to managers." Davis said.
Discussing the opportunities to put classwork into action, Davis said that there are more advantages than simply getting in front of a real-world challenge. These competitions are also an opportunity for the students to see how their in-class learning holds up in today's rapidly evolving business world, and keeps curriculum teaching up to date. 
"We need to make sure that what our students are learning, and what we're teaching works out there. This also involves reinforcing an integrated approach to management thinking. We've got a number of different exercises and classes where you don't just think about issues from a single perspective. You have to think about an issue from the marketing, operations, supply chain, HR and finance perspectives—you've got to bring all of those things into your consideration. That's the real value of activities like Live ICE," Davis said.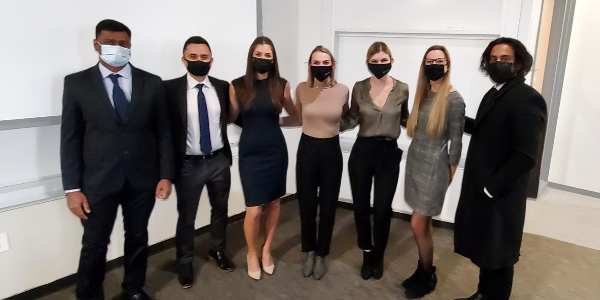 2021 Live Ice Wining team with judges from Friendlier.
From left to right: Sreenivas Viyyuri, Adam Lechter, Kia Carayannopoulos, Friendlier Judge, Friendlier Judge, Sarah MacKichan, Ashan Kasthuriratne
Get to know the Live ICE 2021 winning team
Who:
Kia Carayannopoulos
Undergraduate Education: 
Bachelor of Business Administration, Lazaridis School of Business and Economics
Hometown: 
Waterloo, Ontario
Plans after graduation: 
Marketing strategy consulting
Why
Lazaridis MBA: 
I had a really great experience in my undergrad at Laurier and felt like I had more to learn. After working for a few years in project management consulting and developing a strong general toolkit, I wanted to go back to school to focus on a specialization in order to refocus my career into marketing and business strategy. The condensed nature of the Lazaridis MBA allows me to take the time to go back to school without feeling like I am falling behind in my career.  
Who:
Sreenivas Viyyuri
Undergraduate Education: 
Chemical Engineering, National Institute of Technology Warangal  
Hometown: 
Hyderabad, India 
Plans after graduation:
Looking for roles in technology consulting 
Why
Lazaridis MBA:
I was attracted to the one-year program. Laurier has a very good reputation too.  
Who: 
Sarah MacKichan
Undergraduate Education: 
Bachelor of Social Science with Honours in Economics, University of Ottawa 
Hometown:
Beeton, Ontario 
Plans after graduation: 
Project analyst or data analyst 
Why
Lazaridis MBA:
The integrative nature of the program and the ability to do co-op.  
Who:
Ashan Kasthuriratne
Undergraduate Education:
Bachelor of Science with Honours in Pre-Medical Studies, Brock University 
Hometown:
Oshawa, Ontario 
Plans after graudation:
Work at KPMG as a Technology Risk Consultant 
Why
Lazaridis MBA: 
Positive review from colleagues and the unique one-year, full- time opportunity.
Who:
Adam Lechter
Undergraduate Education:
Bachelor of Arts in Political Science and Government, Western University
Hometown:
Toronto, Ontario 
Plans after graduation:
Hoping to get a full-time offer from P&G after my co-op, then after a few years, start a business and expand operations to the U.S. 
Why
Lazaridis MBA:
The Laurier MBA program is ideal for students who lack a business background. I also wanted a co-op program that would help me decide what industry I want to pursue.  
Q&A with the Live ICE 2021 Winners
The Lazaridis School connected with the winning team to learn about their Live ICE experience.
Q: How did you prepare for this year's Live ICE competition? 
Ashan: The entire term was a preparation itself. We had many smaller case exercises in advance to gauge our team dynamic and see where our strengths lay. Throughout the term, we were able to identify our strengths and weaknesses, knowing that when it comes down to the case delivery, our communication would shine through. 
Q: Did having to practice virtually affect your preparation? 
Adam: Not at all—even when we had classes in person, we'd meet virtually for convenience reasons. It made a lot of sense. Instead of everyone spending time commuting each way to campus, it was just more efficient to meet virtually. This was a little different than some other cases that we've had because it required some additional research outside of the case information. We just divided up tasks, everyone came together, and then we each came up with what we thought our strategy should be, discussed them, and then came to a conclusion that we felt made the most sense and that everybody agreed on. 
Q: The Live ICE company was a local startup. What was that experience like compared to other case studies in your coursework? 
Adam: We connected with the company's director in class and he walked us through how the company worked. Then we had a 30-minute Q&A session with one of the company's founders. Their problem was an entrance strategy, and they were looking to grow quickly. Once you get a good idea of the industry's landscape, there are a lot of possible solutions.  
Q: Was there a specific course, professor, or subject matter that helped to influence your recommendations? 
Kia: The integrated nature of the program really equipped us to pull from our knowledge of all the different functional areas of business, so every single class we took felt relevant and important. That's the great part about an integrated program, it trains students to think about the entire big picture rather than thinking within their siloed specialization. In the end, every class we took during the first term was a major contributor to our success during Live ICE.   
Q: How do you think competing in MBA Live ICE will help you in your courses and career?  
Sreenivas: Doing a live case has helped me think about all the factors we need to consider when talking to a real company. I'm an engineer by training, and now I think about issues from a marketing perspective, from an operations perspective—not just the technical aspect.  
Q: Do you have any advice for someone considering a Lazaridis MBA program? 
Adam: I would recommend Laurier—especially for someone who doesn't have a business background. My undergrad is in political science, and I found that the first semester was very helpful in building a foundation of business knowledge. It gives you insights into each business field, insights that help you decide which one you want to specialize in. 
Sarah: As Adam said, the first semester helps you with the base knowledge you need. What's also great is that you're putting that knowledge into use in your classes. A lesson you learn in one class can be applied in another. The networking is fantastic, too—you meet a lot of the people you're going to be with for the duration of your program.