In January, 2023, a team of Master of Business Administration (MBA) students from the Lazaridis School of Business and Economics at Wilfrid Laurier University participated in the 41st edition of the John Molson MBA International Case Competition (MBAICC), hosted by Concordia University in Montreal, Quebec.
The competition hosts 36 teams, from universities around the globe to compete for the coveted Concordia Cup. Taking the MBA experience beyond the classroom and participating in five rigorous case analyses, students are also encouraged to network and engage with peers from other institutions in networking and social events integrated throughout the schedule.

The Lazaridis School team, featured four MBA candidates, Avery Cantlon, Rob Hand, Nikola Miokovic and Veronica Windmoller who came together shortly after completing the MBA Live ICE competition in December, and practiced through the holiday season to prepare for the competition.
After a tough start to the competition, the team pulled together and won the last three of the five cases in their division, ending with a 3-2 record and giving them the second highest number of wins in that division. While it wasn't enough to take a podium spot overall, the experience and learning opportunities for the team were celebrated by all.

Of the team, coach Matthew Donovan said, "I am incredibly proud of the team's performance, particularly due to the limited amount of training and practices we were able to complete in December due to ICE and the holidays. They represented Laurier well."
We connected with the team to hear more about their experience, and how it has contributed to their Lazaridis MBA:
Who: Avery Cantlon
Education Background: Bachelor of Business Administration (BBA) with Human Resources Management specialization from Sheridan College.
Hometown: Guelph, ON
Plans after graduation: Start working in a generalist HR role, eventually becoming a part of the management team. Along with some exciting plans for travelling the world!
Why Lazaridis MBA?: I wanted the chance to pursue my MBA immediately after completing my undergrad, to not lose my current skills and knowledge. I knew that completing an MBA would always be on my list of future accomplishments to advance in my career, and Laurier has a fantastic reputation for their business programs, the Lazaridis MBA made the most sense for me.
Who: Rob Hand
Education Background: Bachelor of Arts (BA) in Economics from the University of Waterloo; Certificate of Business Management from Toronto Metropolitan University
Hometown: Mississauga, ON
Plans after graduation: Career pivot into business/management consulting.
Why Lazaridis MBA?: Lazaridis, from day one, showed their commitment to their students. The courses, professors, and flexibility, specifically in the part-time path made it an easy choice.
Who: Nikola Miokovic
Education Background: Bachelor of Business Administration (BBA) at Wilfrid Laurier University
Hometown: Kitchener, ON
Plans after graduation: I completed my MBA in December and would like to use my business background and industry experience to provide consulting services for start-ups and small-mid sized organizations to help them succeed. I would like to focus on the KW region, which is establishing itself as an important tech and business hub and has so much to offer.
Why Lazaridis MBA?: I completed my BBA at the Lazaridis School where I had an incredible time being part of the Laurier community. I was able to interact with great people and learn so much. I knew that the Lazaridis MBA would be a great experience as well, and it proved to be so.
Who: Veronica Windmoller
Education Background: Bachelor of Science, Honours Applied Mathematics from the University of Ontario Institute of Technology
Hometown: Milton, ON
Plans after graduation: I'm hoping to pursue a career in business analytics. I'm passionate about sustainability, both in a strategic and environmental sense, and I want to make an impact with my work.
Why Lazaridis MBA?: Lazaridis has a magnificent reputation according to every MBA I spoke with before applying, including those who did not graduate from Laurier! The co-op program allows me to gain valuable work experience before choosing a career.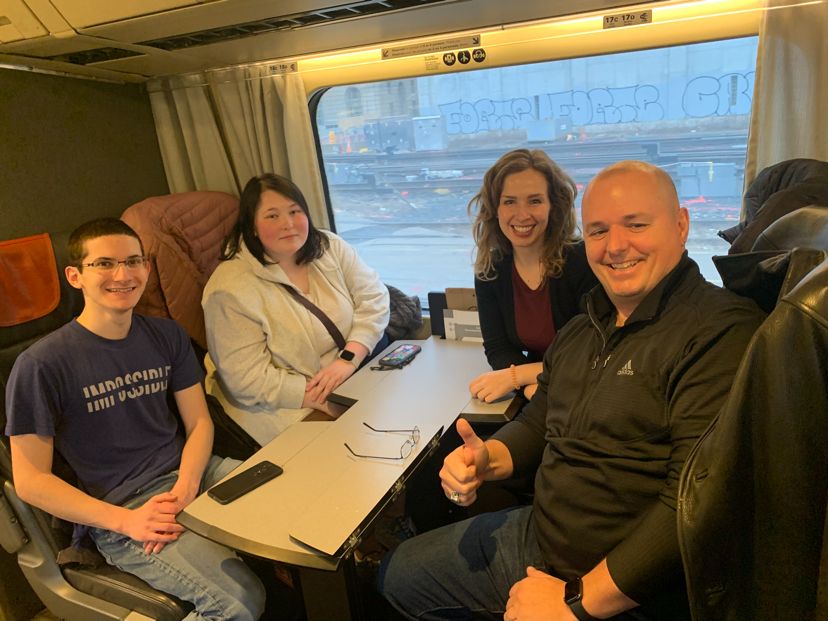 Q&A
Lazaridis School: Who was your coach and how did they help your team prepare?
Veronica:  Matthew Donovan was our coach, and he did an incredible job. With limited prep time, Matthew managed to put together a team with diverse strengths and worked tirelessly, even over the holiday break, to make sure each one of us was comfortable with the competition and what to expect. His feedback over the course of the competition was invaluable, and we could not have won our last three cases without his help. He is knowledgeable, patient, and insightful.
Lazaridis School: Can you describe the case concepts you were exploring? What solutions did you present?
Nikola:  We were able to work on five cases throughout the competition, for each of which we provided solutions to the best of our abilities and presented our work to a panel of judges. Some of the cases explored concepts like sustainability, AI, organic growth, content creation, new innovations, and diverse product portfolios. We did our best to provide solutions that were unique, innovative, and that effectively addressed the given problems.
Veronica: From safari tours in Africa to influencer marketing and the rise of AI, this competition provided a huge variety of cases to explore. Our solutions focused on the strengths of the businesses, and we tried to use creative ideas supported by strong financial analysis.
Lazaridis School: What experiences did you get to participate in outside of the competition?
Veronica: We were fortunate enough to be able to travel to Montreal and stay at the Hotel Bonaventure for this competition. Although I didn't get the chance to explore the city, the hotel was absolutely gorgeous, and featured a unique heated outdoor pool. The event coordinators did an incredible job at organizing fun events in the evenings and between cases, such as a fun theme party and some karaoke, and it was a great opportunity to meet the other participating teams.
Avery: Our competition took place in Montreal, and while we didn't get to experience much outside the hotel, the competition itself provide many fun events. We got to attend cocktail events and costume parties that made the week go by so fast!
Lazaridis School: Where was the competition and what other schools did you compete against?
Rob: The competition was held in Montreal. The John Molson MBAICC is considered best in class, and it showed, with 36 schools from 17 countries all competing. Our team competed in division 6, going up against teams from Germany (last year's winners), Ireland, Quebec, Ontario & Mexico.
Lazaridis School: How did you prepare as a team for the competition?
Rob: Unfortunately, we did not have a lot of time to prepare. With only two weeks to get ready, over the holiday season, we had three virtual sessions to review the process, concepts and trial case. We did take advantage of the train ride to Montreal and reviewed our strategy and slide deck format.
Veronica: We were put together as a team very suddenly - only two weeks before the beginning of the competition! Over the holiday break, we met virtually and scheduled as much time as we could to go over our templates, examine presentations from previous competitions, and read and present our own solutions for sample cases. It was very fast, but with Matthew's guidance and some positive attitudes, we made it work!
Lazaridis School: How has competing in the competition impacted your experience in the Lazaridis MBA?
Rob: Personally, my designated MBA specialization is strategic management. Being part of this competition was immensely valuable to my learning and growing in this area. There is never a substitution for real life experience and having the opportunity to take my work experience and Lazaridis course learnings and put them to work in front of high-level industry leaders was amazing.
Veronica: This competition has reaffirmed my decision to come to Lazaridis for my MBA. I learned so much from Matthew and my teammates in the five short days of the competition, and our performance makes me feel like I'm where I'm supposed to be. It was fulfilling to see all of the knowledge I collected in the first core semester come to fruition, and it was fantastic to have the opportunity to learn from other MBA students from all over the world.
Lazaridis School: Are there any other insights, tidbits, or fun stories you'd like to share from the experience?
Nikola: The experience included a little bit of everything. Opportunities to learn, showcase your skills, network with people from all over, and of course have fun. For me, it was great to be able to really connect with people, beginning with my teammates who are all amazing, and extending to many others at the event.
Avery: One of the funniest moments from the competition was walking into the costume party after the day's cases in our team's super Mario costumes and matching alongside the Australian school. We then decided to dance alongside them as Mario and Luigi!
Lazaridis School: Do you have any advice for someone considering the Lazaridis MBA program?
Rob: The opportunities for, more than just courses, is there for the taking. If you are looking for a solid education with ample opportunities to get the full experience, Lazaridis is the best option.
Nikola: I would say that the Lazaridis MBA program provides students with a perfect mix of academic learnings, network opportunities, and practical applications. Compared to other MBA programs, the Lazaridis program's advantage is that it is situated in a great and tightly-nit community, it is reasonably priced, and it able to provide a comprehensive and practical business education. Once you are in the program, I think that it's best to try and get as involved in activities as you are able to. There are lots of opportunities for involvement, and taking advantage of them will enrich your experience.
Veronica: With my STEM background, I knew an MBA would be a great way to complete my education and get me to where I wanted to be in my career. Although I chose Lazaridis for the co-op program, I knew that it would be more group work than other MBA programs. I have never been someone that enjoyed working in a group, so I figured I would just have to grin and bear it. I was wrong! Working with groups, especially in the John Molson competition, has been where my deepest learning has taken place. I have met wonderful, intelligent, hardworking people, and then had the pleasure to learn from them.
Avery: I would say that anyone that is considering it should just do it! Laurier has such an amazing community where you will get to meet the best people, along with getting the chance to apply your knowledge in such a unique way! You will also get opportunities that you wouldn't get at other schools, and professors and faulty will be so supportive in helping to push you to achieve what you are fully capable of.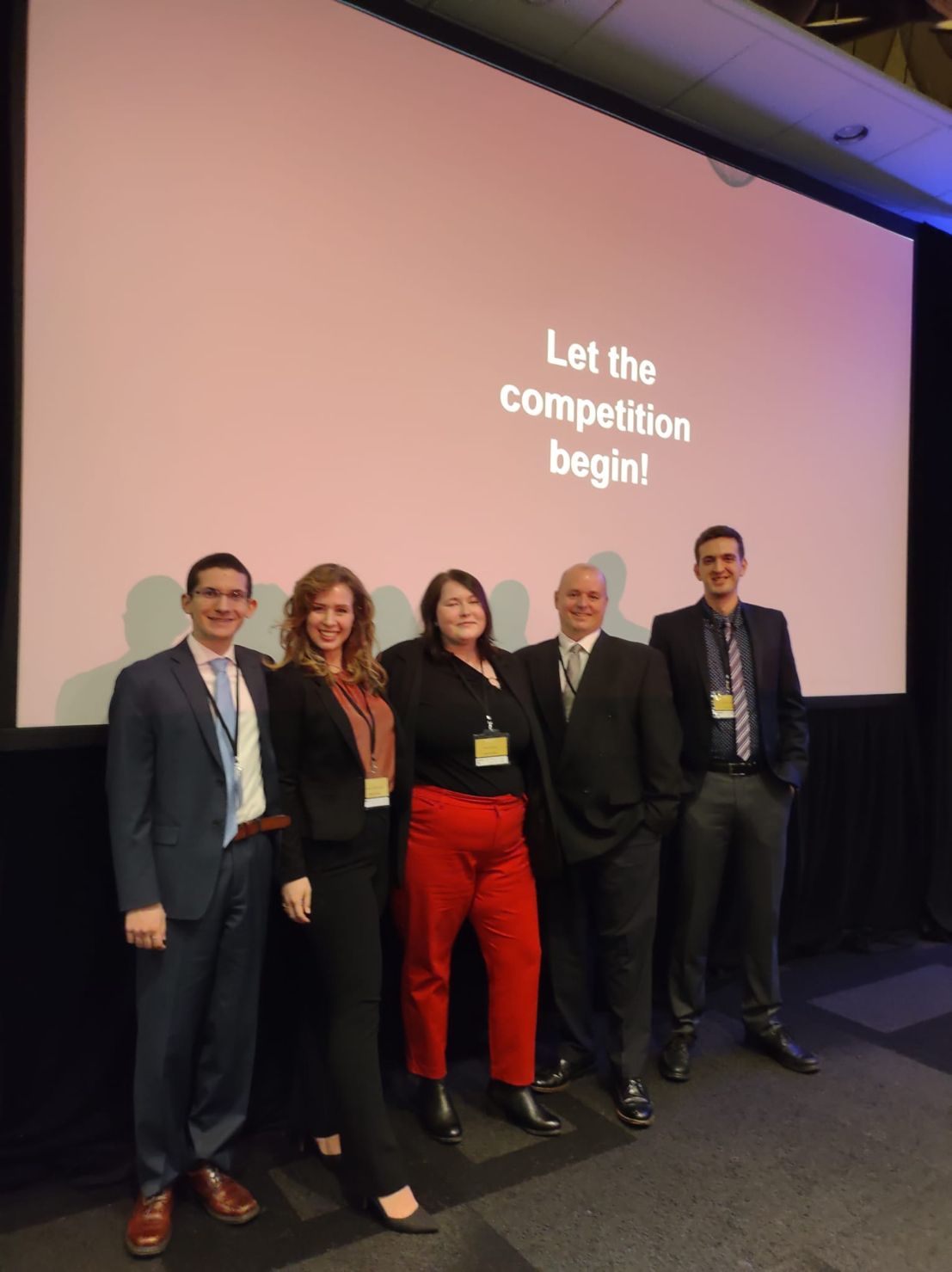 For more information about how you can join the Lazaridis MBA program, introduce yourself through our contact form.