Wilfrid Laurier University's Richelle Monaghan has been recognized with a 2020 Sam Drogo Technology in the Classroom Award.
Presented by the Human Anatomy and Physiology Society (HAPS), the international award recognizes a HAPS member who demonstrates an innovative use of technology to engage undergraduate students studying Human Anatomy and Physiology. The award was established in memory of Sam Drogo, a devoted member of the anatomy and physiology community, who passed away in 2010.
Monaghan uses innovative methods to engage students, including virtual study nights, Snapchat learning activities and videos she creates to guide anatomy students through the musculoskeletal system.
"Dr. Monaghan's teaching style, which incorporated different forms of technology and unique activities, gave me lasting takeaways," says Scott DeJong (BEd, BA '18), a former student from Laurier's Brantford campus. "She recognized which material would be challenging to students and altered her course activities in order to best match our learning needs and be relatable to our own lives."
Monaghan joined Laurier's Brantford campus in 2012 in a cross-appointed role in Community Health and Biology.
"I am excited and honoured to receive the Sam Drogo Technology in the Classroom Award," says Monaghan. "I am always supported by HAPS to try new things. Sometimes it is that collegial encouragement from someone saying, 'Wow, I've never thought of doing that before!' that pushes you to bring your new ideas to life."
Snapchat is one of the technologies students in Monaghan's Introduction to Human Anatomy course use to learn the muscles used to create facial expressions. Snapchat filters heighten facial expressions – including puckering, pouting and smiling – and make it easier for students to visualize and remember the muscles referenced in course content.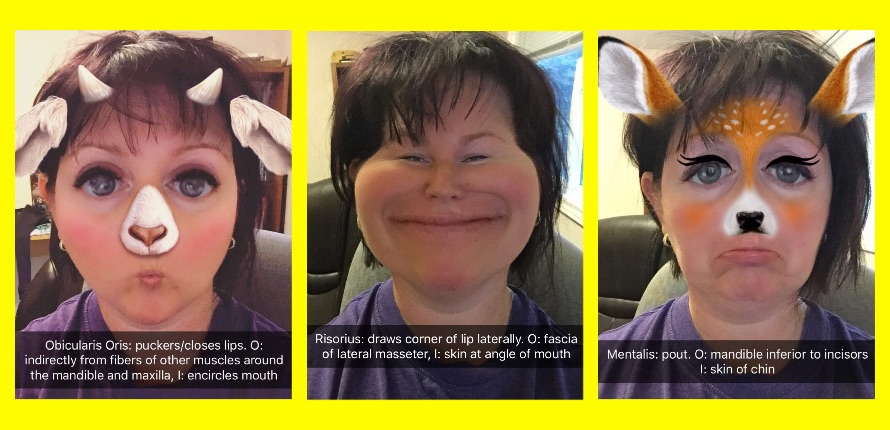 "One memorable lesson involved the use of Snapchat," says DeJong. "We were learning about facial muscles and using Snapchat, Monaghan (pictured above) had us take different photos of facial expressions which we would then label with the associated muscle groups that were activated by our expression. Using filters and making goofy faces with friends in the class was one of the most relaxed ways to learn I had ever experienced."
Students also had the option to find or design emojis to symbolize facial expressions.
"We learn a lot from images because we can easily associate information and concepts to concrete images," says Monaghan. "During this activity, students were laughing and their engagement level was high. They were having fun and quickly learning these muscles."
As part of the same course, Monaghan created online videos to guide students through the musculoskeletal system using a makeshift home recording studio and human skeleton model. Students are asked to engage in a self-test during the videos to measure their understanding. The method guides students through an active-learning process and addresses what Monaghan refers to as "anatomy anxiety".
"Once we move to the musculoskeletal system, students describe their learning experience as akin to 'trying to sip from a firehose,'" says Monaghan. "Using the videos, I can group the information in a way that I think is far more valuable to understanding the body and space the content out to promote deep processing, memory and a sense of competency."
Monaghan also promotes student's competency and confidence through "study nights with the prof." She introduced the virtual study nights when teaching first-year anatomy in 2012, after noticing her email inbox piling up with messages from students during the 48-hour period before a midterm or exam. Monaghan thought the study sessions would be a better way to reply to student inquiries and broadly disseminate answers to frequently asked questions.
During the two-hour study nights, Monaghan joins her class in a web conference to review common student questions. Students can log on anonymously and submit questions in real time, with Monaghan using web conferencing software to share her screen, review relevant content and address student concerns.
"I am always looking for ways to help students engage more deeply and technology can be a great way to do it," says Monaghan. "I like to use technology as a tool to aid in the learning process. Students are already engaged with technology during the day, so I can use it as a tool to reduce anxieties and create memorable moments in my classes."
Monaghan was also named the first recipient of the Gail Jenkins Teaching and Mentoring Award by HAPS and received Laurier's Early Career Excellence in Teaching Award, both in 2017.
"Richelle is a courageous instructor who is continuously looking to challenge and advance her practice through creatively engaging with pedagogical innovations and technological tools," says Joseph Beer, director of teaching, learning and development at Laurier. "The innovations she's been recognized for are driven by her tireless commitment to her students' learning process and development."