Posted: March 19, 2020
Updated: Feb. 16, 2021
In our local communities and around the world, the coronavirus crisis has led to stories of people lifting each other up and helping those in need amid trying circumstances.
Laurier's thriving community is doing its part and staying positive. Here, we share stories of sharing, helping and kindness submitted by members of the university community.
If you have a story to share, email communications@wlu.ca or tag Laurier in your social media posts.
Laurier 'stepping up' as part of month-long Community Physical Activity Challenge
The Wilfrid Laurier University community has responded in a big way to a month-long step challenge issued by the Sun Life Financial Centre for Physically Active Communities.  
More than 350 faculty, staff, students, alumni and community members have registered for the Community Physical Activity Challenge, which sees team members work together to register the highest average number of steps on the MoveSpring app during the month of February.
After just 18 hours of competition, participants had already logged more than 3.5 million steps and 2,408 kilometres. 
"We have had an incredible amount of support for the challenge," says Nicole Vandermade, Sun Life Financial Centre for Physically Active Communities program coordinator. "Many participants have said it's fun to participate in something with others, even at a distance, and it's good motivation to get active again after many months indoors." 
The competition's leaderboard is updated weekly and posted to the Sun Life Financial Centre for Physically Active Communities Facebook page.
Laurier employee challenge benefits community food banks
Laurier's Facilities and Assets Management team, responsible for campus operations and maintenance, held a department-wide food drive in support of the Brantford Food Bank and the Food Bank of Waterloo Region. From Dec. 1 to 14, 10 teams, including trades, custodial, grounds and administrative staff, were challenged to collect the minimum estimated weight of their team captain in non-perishable food items.  
The team representing Laurier's Brantford campus far exceeded that goal, collecting 592 of the total 2,547 pounds of food collected. 
"The efforts put forward by everyone remind us of how we can achieve so much more when we work together," says Jenna Lowe, manager of custodial services at Laurier. "Everyone wins when we give back to our communities and those in need." 

The winning team earned the right to deliver the donations to the food banks on Dec. 16 and will be treated to hot chocolate and cookies upon its return to campus. 
Laurier employees support memorial toy drive with gift cards
Laurier's Financial Resources' team also made some special deliveries earlier this month. 

Salvation Army offices in Kitchener and Brantford received 92 gift cards in varying amounts, which were collected by Laurier staff members Julie Steckle, Florence Bray, Penny Friesen and Antoinetta Volpe as part of Sarah's Annual Toy Drive.

Held each December, the toy drive honours the legacy of Financial Resources staff member Sarah Wilkinson, who organized the long-time annual event before she passed away in August 2018. 

"We are so happy to see such amazing support during this difficult time," says Steckle. "We thank everyone for their generosity. Sarah would be touched by the support."  
Recruitment and Admissions team gives to help those experiencing homelessness
The COVID-19 pandemic has led the Laurier community to give back in new ways during the holiday season.

In past years, Laurier's Recruitment and Admissions team raised holiday donations for two programs: Angel Tree and the Shoebox Project for Women. This year, donating to the programs was not possible due to the pandemic.

As part of Recruitment and Admissions' annual 12 Days of Christmas celebrations, which this year includes 12 days of virtual holiday fun, the department instead held a "Giving Back Day." Team members were asked to support the organization Beautiful Souls Battling Hunger, which provides meals and personal items to individuals experiencing homelessness in Waterloo and Brantford.

On Dec. 4, the Recruitment and Admissions team presented Beautiful Souls Battling Hunger a donation of $720.

"This is amazing considering we are a relatively small department," says Jennifer Williams, international admissions coordinator with Recruitment and Admissions. "I am in complete awe of the charity and giving nature of our Recruitment and Admissions team."
Lending Helping Hands
Wilfrid Laurier University student Matthew Beube doesn't mind lending a helping hand. Neither do his friends.

Beube, along with 15 other Golden Hawks, recently delivered more than 8,000 pieces of mail throughout Kitchener and Waterloo to raise awareness for Grand River Hospital Foundation programs. The foundation raises funds to help Grand River Hospital provide high-quality health care by granting funds for medical equipment and technology, renovation projects, and local clinical and health research and education.

"It's so rewarding to see students eager to make a difference in their community," says Mia Huber, the foundation's donor innovation manager. "And what a brilliant way for people to get involved and for a cause while keeping the community safe at the same time."
Laurier Education students support English-language learners during COVID-19
Wilfrid Laurier University Education student Becca Forler is helping create online English-language learning opportunities for students in El Salvador during COVID-19.

Forler, who volunteers with the charitable education organization CanTeach Connections, translates stories into English and creates oral comprehension questions for the students' teacher to pose. The students are learning online due to the pandemic.

CanTeach Connections board member Betty Colquhoun says that other teacher-education candidates from Laurier have joined Forler and are providing one-on-one English-language support to students in El Salvador.
Laurier employee celebrates 40-year work anniversary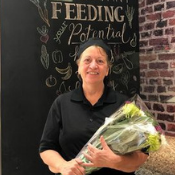 A longtime, well-known Laurier employee recently celebrated a milestone anniversary. 

Food Services employee Sharon Weber marked her 40th anniversary working at Laurier. During her four decades at the university's Waterloo campus, Weber has worked at every Food Services location, including Wilf's Restaurant and Bar. Weber is a favourite among Laurier students. She and other long-service employees will be celebrated during Laurier's annual Employee Achievement Awards, which will be held at a later date.
Laurier students address food insecurity through community fridges
Recent Wilfrid Laurier University graduates Angel Zolfiqar (BA '20) and Nicole Skinner (MA '20) are addressing food insecurity in Waterloo Region one fridge at a time.

In partnership with University of Waterloo student Sarah Pharaon, the group has launched Community Fridge KW, an initiative that allows individuals and businesses to donate fresh food for community use. Anyone can donate or take food from the fridges, which also support the reduction of food waste in the region.

"The pandemic has created additional pressures such as reduced income, job loss and health issues," Zolfiqar told Rogers Digital Media. "These challenges can result in high levels of food insecurity, which is why we are determined to launch this initiative as soon as possible."

Fresh fruits and vegetables, non-perishable items and shelf-stable foods can be donated. For food-safety reasons, home-cooked meals cannot be accepted.

Community Fridge KW announced its first fridge location at Zero Waste Bulk, located at 110 King Street South in Waterloo. The group hopes to have additional fridges located throughout the region in the next few months.

Read the Rogers Digital Media article.
Laurier alumnus's app keeps people connected during COVID-19
Physical distancing doesn't have to mean social distancing. That's why Wilfrid Laurier University alumnus Akshat Soni (BBA '19), co-founder of the ride-sharing app HiRide, pivoted his product to keep people connected during COVID-19.

HiRide is now HiQ, a social network that connects people with similar interests, such as sports, entertainment and music, while distancing. HiQ also features a trivia section, where users can win up to $500 each week.

"We wanted to see how we can provide a solution to students and maybe high school kids that are stuck at home, who are itching for that social interaction and that's where the idea for HiQ came," Soni told Metroland Media Group.

Soni and his team felt there was a need for the HiQ app beyond North America and began promoting it globally. HiQ has been downloaded more than one million times.

Read the Metroland Media Group story.
Running for Community Good
Wilfrid Laurier University student Stephanie Dance gave COVID-19 a run for the money.

Dance, who is pursuing a Master of Business Administration degree, completed a 10-kilometre fundraiser run on Aug. 22 in support of Carizon Family and Community Services in Kitchener. She began volunteering at Carizon in fall 2019 to fulfil program requirements and planned to complete her hours during the winter 2020 term.

But the pandemic changed that: in-person activities were suspended, and few virtual volunteer opportunities exist. The pandemic also cancelled the half marathon that Dance and her husband were training for.

"Running has helped me keep my mental health in check, and Carizon helps so many individuals and communities through mental health support," says Dance. "I can't imagine how difficult fundraising during a pandemic must be, so channelling my running energy to support Carizon was my way of helping."

Dance ran from the Lazaridis School of Business and Economics at Laurier's Waterloo campus to Carizon's location on Weber Street in Kitchener. She raised nearly $2,000, surpassing her goal of $1,000.
Laurier alumnus aims to protect educators with donation of 750,000 face shields
Laurier alumnus Jeremy Hedges (BA '15) is giving back and helping keep educators safe during the COVID-19 pandemic.

Hedges' educational technology firm Inksmith, which pivoted during the spring to begin producing face shields for healthcare workers on the frontlines of fighting COVID-19, is donating 750,000 of its Canadian Shield PPE face shields to educators returning to classrooms across Canada this fall.

The donation is Inksmith's way of saying thank you to dozens of school boards that used their schools' 3D printers to make parts for face shields given to frontline healthcare workers during the early weeks of the pandemic.

"Those school boards really helped us in those early days," Hedges told Metroland Media Group. "They've had our back. Now we're going to have theirs."

Read the Metroland Media Group story.
Building storytelling tools for families
With the onset of the COVID-19 pandemic, Cathy Miyata, an assistant professor in Laurier's Faculty of Education, and teacher candidate Sarah Freeman recognized the limitations and challenges children and parents faced with home-schooling and remote teaching. They also recognized that storytelling plays an important role in children building relationships, connecting with community and developing a sense of self.
Together, Miyata and Freeman created two online storytelling units for children that include activities, challenges, videos and stories from around the world. The first unit is designed for children from kindergarten to Grade 3 and the second unit for children from Grade 4 to Grade 6.
"The response from children, parents and teachers has been terrific," say Miyata and Freeman. "Parents have sent videos proudly showing how engaged and successful their children are with the activities and teachers have been sending emails of gratitude."
In addition to the storytelling units, Miyata has also published an article for parents about creative storytelling games to play with children.
Hand sanitizer donations benefit community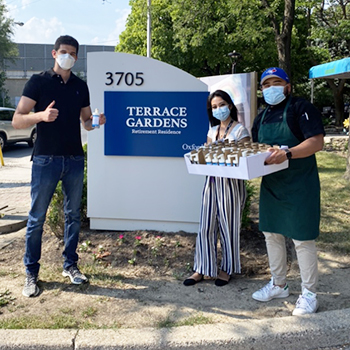 Third-year Laurier student Tomer Tarsky started his summer a little differently than expected by launching the student-owned hand sanitizer company Ultra Safe Hand Sanitizer.
Tarsky and his team have been working to support the community, donating hand sanitizer to retirement communities and restaurants. Ultra Safe Hand Sanitizer recently donated 30 bottles to Terrence Gardens Retirement Residence, located in Toronto.
"We committed to a plan of donating 100 bottles of hand sanitizer every two weeks," says Tarsky. "We are also providing employment opportunities for students who lost their jobs this summer."
As retail stores across the province slowly reopen, Ultra Safe Hand Sanitizer has also been supplying hand sanitizer to Talize, a Canadian retail store with locations across Ontario and beyond. Tarsky says he hopes to inspire students and anyone seeking ways to support their community.
Student supports small business through PPE startup
As the coronavirus began spreading across Ontario, Wilfrid Laurier University business student Cole Starkman wanted to help others while still learning in his field of study.
The 18-year old started PPEonDemand.ca, which supplies small businesses with items such as face shields, disposable masks, gloves and hand sanitizer so they can resume in-person operations. 
"We've been trying to help businesses bring back their stores and their employees in a safe and healthy manner," Starkman tells Metroland Media. "It's not inaccessible stuff, but it's hard to get."
With a 'shop local' approach, Starkman stocks health and safety items produced in North America and uses his parents' garage in Port Carling, Ont., as his warehouse. 
Read the Metroland Media story.
Inspiring change through music
Laurier alumna Rebecca Binnendyk (BMT '04, BEd '08) believes in making a difference through her music. Proceeds from her recent album, I Don't Belong to You, will go toward efforts to fight COVID-19 in Uganda, where she has been volunteering with Plan International Canada. || Listen to Binnendyk's music and read the story.
Restaurant recognizes Student Wellness Centre frontline workers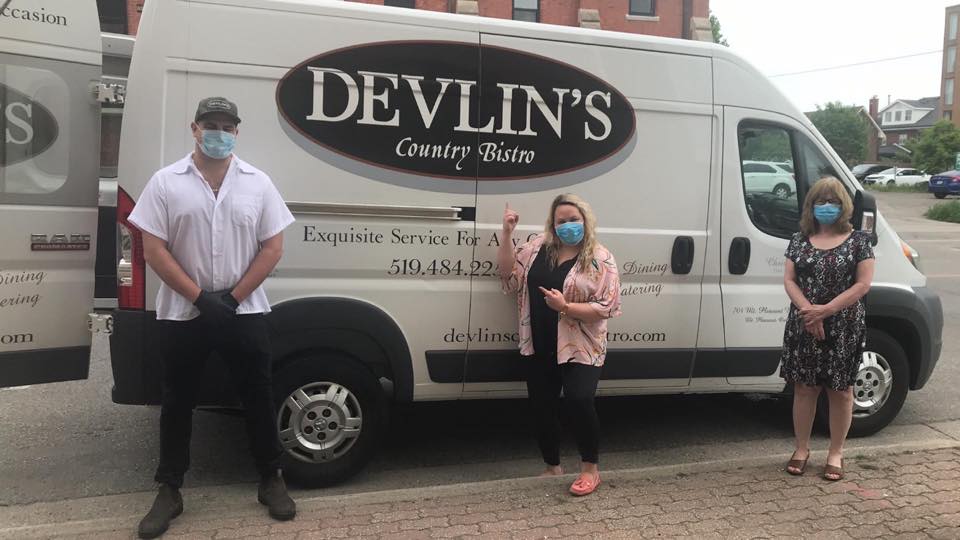 The efforts of frontline workers are being recognized in communities across Canada during COVID-19, including those at Wilfrid Laurier University.

On May 27, Devlin's Country Bistro in Mount Pleasant treated staff members at the Brantford campus Student Wellness Centre to lunch for their work supporting students. The restaurant donated 125 meals to frontline workers in the Brantford-Brant community that day, including employees at Stedman Community Hospice and Hardy Terrace Long-Term Care Home.

Recognizing frontline workers who may go unnoticed was the motivation behind the restaurant's generosity, co-owner Ryan Devlin wrote in a Facebook post.

"There are so many organizations doing so much right now. I wanted to show the nurses, doctors, volunteers and every employee the recognition they deserve while working so hard during this trying time. Thank you to everyone working the frontlines to keep our community healthy and safe."

Student Wellness Centre staff were delighted by the restaurant's thoughtful and generous act.

"We were all smiles under our masks," says Jodie Lockey-Duesling, acting manager of the Brantford campus Student Wellness Centre. "I am so proud of our team members for their patience, perseverance, teamwork and can-do attitudes during this unprecedented time. They are shining examples of the Golden Hawk spirit!"
Keeping a community tradition alive during COVID-19
Wilfrid Laurier University employees Jessie Eulenberg and Amanda Di Battista are helping to keep a Kitchener neighbourhood's tradition alive during COVID-19.

The Hohner Avenue Porch Party is an annual community festival that sees neighbourhood musicians and other artists perform on their porches for friends and passersby. The annual event, which takes place during the last weekend in May, has survived heat waves and rainstorms but was cancelled this year due to the risks associated with COVID-19.

"When we announced the cancellation of the Hohner Avenue Porch Party, we heard from neighbours and musicians asking for an alternative," says Eulenberg, a Laurier career consultant and Hohner Avenue area resident. "We wanted to boost the spirits of our community and enjoy the talents of our artists, so plans for the Hohner Avenue Porch Party at Home began."

Working with the City of Kitchener and the Kitchener Public Library, Eulenberg and Di Battista have arranged for a live stream of the Hohner Avenue Porch Party at Home on YouTube. The live stream takes place on Saturday, May 30 from 6 to 7 p.m. All members of the Laurier community are invited to virtually attend. 
Producing PPE for frontline workers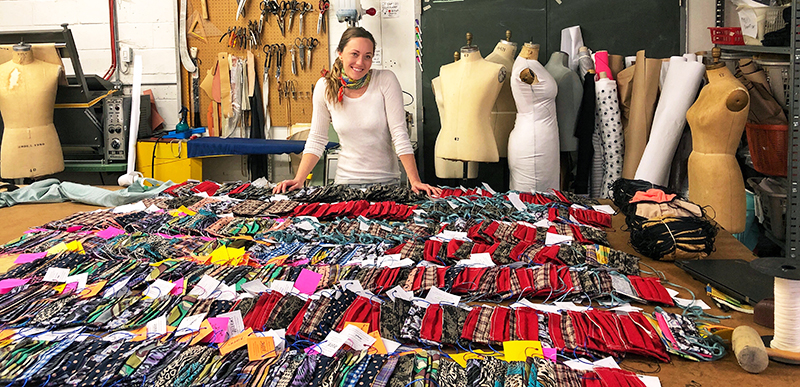 As a family member and friend of multiple individuals fighting on the frontlines of COVID-19, Laurier graduate Sarah Splinter (BBA '11) wanted to do something to help.
So she turned the attention of her Toronto-based company – Sarah Splinter Design – to an effort she calls the #SewBetterTogether Project, which aims to produce and donate 5,000 pieces of reusable personal protective equipment to heathcare workers.
"In a matter of weeks, everyday life as we know it has shifted into what seems like a parallel universe," says Splinter. "Like many others, I found myself searching for a way to give back to the people in my life that were putting themselves at risk for the health and safety of others.
"With the shortage of PPE in our communities, I recognized my experience in the fashion industry could be an opportunity to redirect efforts."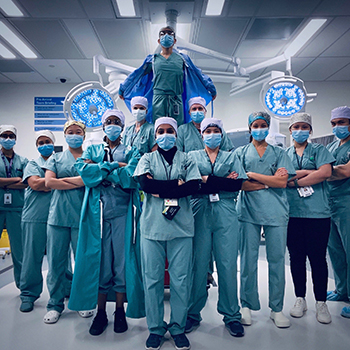 Splinter assembled a team of more than 80 volunteers for the #SewBetterTogether Project to produce and donate washable face masks with disposable filters, scrub caps and gowns, all using donated materials. Distribution efforts have been focused on healthcare professionals working in labour and delivery, maternity, paediatrics and nursing homes.
"What began as a seedling of an idea has blossomed into a beautiful network of volunteers and a generous stream of fabric donations," says Splinter. "In a world where we are being told to keep our distance and self-isolate, it is easy to feel alone and apart. This initiative is bringing people together to build a new sense of community, purpose and connection."
The #SewBetterTogether Project is raising funds to help with production costs beyond donated materials, distribution costs and expanding its donation network. Visit the project's Go Fund Me page for more information. Face masks made by #SewBetterTogether volunteers will also soon be available for purchase, with 100 per cent of proceeds donated to women's shelters.
Spreading kindness from afar
Sarah Stapleton's New Year's resolution has become a source of inspiration for thousands of people during COVID-19.

On Jan. 1, the third-year Wilfrid Laurier University music student began The Kindness Quest, a personal mission to perform an act of kindness every day in 2020. Throughout January and February, Stapleton undertook kind acts on a daily basis, such as holding doors for others in public and shovelling her neighbour's snowy driveway. But as COVID-19 spread and physical distancing set in, Stapleton was forced to find other ways to carry out her daily kindness mission.

In mid-March, Stapleton created The Kindness Quest Instagram account to reach more people and inspire others to spread kindness during COVID-19. Six weeks since the account's creation, The Kindness Quest has reached thousands of people and inspired followers to start their own kindness quests. Stapleton has also collaborated with other wellness Instagram accounts to expand the collective reach and spread kindness farther.

"This experience has taught me so much about the power of community and helping others," says Stapleton. "I am so grateful to be part of an incredible online community dedicated to spreading kindness. Every act really does make a difference, especially during a time like this."

Follow The Kindness Quest on Instagram for ways to spread kindness while practising physical distancing.
Startup pivots tech to support food bank
The adversity created by COVID-19 can't keep Wilfrid Laurier University's alumni community of entrepreneurs from rising above.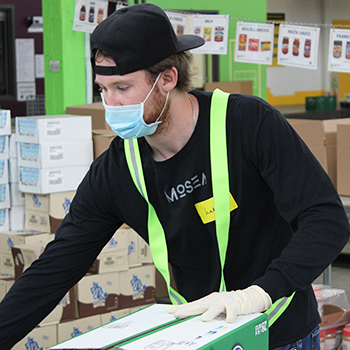 Luke de Haas (BBA '19) is a founding member of Mosea, a Toronto-based mobile crowd-funding platform startup that simplifies group money transfers and ticket sales. With social distancing measures pausing all large-scale gatherings including concerts and sporting events, de Haas and colleagues have pivoted Mosea technology to help local food banks.
On May 19, they kicked off Mosea Meals, a fundraiser to support hunger-relief efforts of the charitable organization Daily Bread Food Bank. Daily Bread provides food support to more than 130 member agency food banks and homemade meals to agencies that operate shelters or drop-in programs across the Greater Toronto Area.
"We recognized that we had resources and a strong network of support at our disposal to make a positive impact on our community," says de Haas. "We hope Mosea Meals can help the Daily Bread Food Bank relieve some stress among our more vulnerable community members during this difficult time."
One hundred per cent of donations to Mosea Meals will be directed to the Daily Bread Food Bank. Donations are tax-deductible. To learn more, visit the Mosea Meals fundraiser page.
Going purple and gold for a good cause
Hawks Beyond Borders, a student club at Wilfrid Laurier University's Waterloo campus, is on a mission.

The club, dedicated to raising awareness for global health issues, wants to keep Laurier students safe during the COVID-19 pandemic while keeping school spirit high.

The club is selling cotton face masks in Laurier's signature colours: purple and gold. Money made through the sales will be donated to the World Health Organization's COVID-19 Response Fund. The masks, made in Ontario, can be purchased for $12 each or two for $20, which includes delivery within Canada.

"We know there is a shortage of personal protective equipment, which makes some students feel uneasy going out in public," says Jalen Manett, club co-president and Health Sciences student. "We hope the purple and gold masks help students feel safe and connected to the Golden Hawk family while supporting a global relief effort."

The club raised over $300 dollars for the relief fund during the first 48 hours of the sale. They hope to surpass their fundraising goal of $1,000.

"It feels good to support an organization that is working to help countries around the world through this crisis," says club co-president member Jessica Poliwoda, who is also studying Health Sciences.

To order a mask, visit Hawks Beyond Borders on Instagram.
Creating a global stage
Theatres and performance spaces may be closed, but Christine Mayor, a drama therapist and PhD candidate in Laurier's Faculty of Social Work, found a way to keep art alive. Together with Dr. Nisha Sajnani, the director of the drama therapy program at New York University, she created a virtual, international performance festival called Everything is Not Going to be Okay.

Over the span of seven weeks, more than 50 performers reflected on the impacts of the COVID-19 pandemic through poetry, song and monologue. An average of 100 people from more than 33 countries, including China, Spain, Egypt, Palestine, India and the United Kingdom, attended each weekly one-hour show.

"We co-created this space to offer a way for the community to process this collective trauma through performance," says Mayor. "Working from a trauma-centered perspective, we believe it is critical to create a platform for stories to be told about how things are not okay, both now and prior to the pandemic. At the same time, we know that intentional acts of creation can foster solidarity, and performers generously shared stories of inequity, isolation, grief and hope."
Threads of Inspiration
Michelle Hutuleac, a systems analyst at Wilfrid Laurier University, found a thread of inspiration in her Facebook feed among the many troubling COVID-19-related headlines.

"There was a group of people sewing facemasks for Cambridge Memorial Hospital," says Hutuleac, who has been sewing since seventh grade. "I am forever grateful to Cambridge Memorial Hospital, so I joined the group right away and waited for the materials to arrive."


Hutuleac's eldest daughter, now 10, received life-saving care from Cambridge Memorial Hospital as a toddler. She has helped Hutuleac with the mask-making process, even sewing a few herself. To date, Hutuleac has sewn over 140 masks, which she says she has "down to a science." Hutuleac can sew one facemask in five minutes.

Hutuleac has since joined another Facebook group sewing surgical caps for staff at Grand River Hospital in Kitchener.

"I like the challenge of the caps," says Hutuleac. "They take longer and are more complicated to make."

Hutuleac is on her third batch of caps, which contain between 50 and 60 caps each.

In a May 6 Facebook post, the cap-sewing group reported more than 2,100 caps made for Grand River Hospital. The mask-sewing group has delivered more than 18,000 facemasks to Cambridge Memorial Hospital.

"I enjoy sewing and find it therapeutic," says Hutuleac. "It's been my way to contribute during this time."
Celebrating co-op student success
Wilfrid Laurier University Business Technology Management student Romane Ng Yung Kiat received a sweet surprise on her doorstep from her winter-term co-op employer, Blue Link Associates Limited (Blue Link), in recognition of her exceptional workplace accomplishments. The company has transitioned employees to work-from-home arrangements and couldn't celebrate Ng Yung Kiat's job well done in-person.


"Romane's attention to detail and self-driven motivation made her an outstanding co-op student," says Darren Myher (BBA '96), chief technology officer at Blue Link.

During the winter 2020 co-op term, Ng Yung Kiat held the position of Business and Software Documentation Guru. While she couldn't say goodbye to her colleagues in person, she extends a "virtual slice" of the Laurier-styled cake to the entire team!

"Looking back at when I first started, I have been able to grow as a person at Blue Link, not only because of the work that I've done but because of the friendships I've been fortunate to form," says Ng Yung Kiat. "I couldn't have asked for a better experience or team!"
Supporting local businesses with 'WaterLoot'
Tyler De Sousa and some of his fellow business students at Wilfrid Laurier University are supporting the local economy during COVID-19 through an initiative called "WaterLoot," which allows individuals to purchase a "mystery box" of products from local businesses.
While the contents of the boxes remain unknown until opened, they could contain items such as fresh or packaged food, self-care products, a game or book, a gift card, or other items from Waterloo businesses. Each mystery box costs $50.
De Sousa tells the Waterloo Chronicle he hopes the initiative will "impart the message of shopping locally whenever possible."
Read the Waterloo Chronicle story.
Students lend an ear to seniors as part of Chatting to Wellness
Laurier Health Sciences students Michael Guerguis and Melina Hanna are among a group of youth working to engage seniors during the COVID-19 pandemic as part of a volunteer program called Chatting to Wellness.
Normally, the student-run program arranges for in-person visits between students and seniors across southern Ontario in an effort to combat isolation and improve mental health. With COVID-19 preventing those visits, Chatting to Wellness is offering telephone calls to seniors across Canada.
Read a Kitchener-Waterloo Record story about Chatting to Wellness.
Supporting the fight against cancer
A pandemic isn't going to stop Laurier alumna Elise Gasbarrino (BBA '07) from helping young women with cancer get the support they need.
To accommodate physical distancing during COVID-19, Gasbarrino has moved her annual gala fundraiser for Pink Pearl Canada, the non-profit organization she founded to support young Canadian women with cancer, to an online format. Gasbarrino is an ovarian cancer survivor. Funds raised as part of the event will be used to provide social programming, wellness resources and scholarships.
The April 30 event includes a virtual pre-party, a live musical performance by the Great Canadian Dueling Pianos and a special appearance by Kortney Wilson, celebrity host of HGTV's Masters of Flip. Guests are encouraged to dress up for the online event, which will include a silent auction and digital swag bags.
For more information, visit pinkpearlcanada.org.
Laurier alumnus contributes to Stronger Together

On April 26, millions of Canadians tuned into Stronger Together, a TV concert fundraiser for Food Banks Canada that featured at-home performances by Canadian music stars.
The concert's concluding performance – a cover of the late Bill Withers' Lean on Me featuring artists including Justin Bieber, Michael Bublé, Avril Lavigne and others – was organized by ArtistsCAN, an artist collective initiative directed by Laurier alumnus Danny Reiner (BA '12). 
The ArtistsCAN cover is available on streaming services. All proceeds from the song will support the Canadian Red Cross response to COVID-19 in Canada.
Read a CBC Music article about the initiative.
Redirecting time and resources to support frontline healthcare workers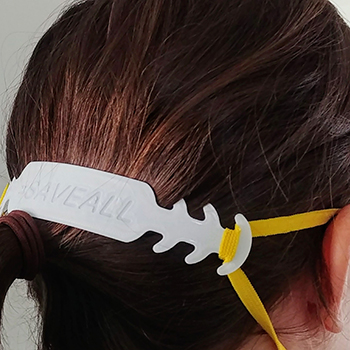 COVID-19 may have put Branden Walker's plans to attend a remote Laurier field camp on hold, but the research associate is putting his time and resources to good use: helping support frontline healthcare workers in the pandemic fight.
Using a 3-D printer from his lab in the Department of Geography and Environmental Studies, Walker is printing "ear savers" for frontline workers who wear face masks. The thin pieces of plastic reposition the elastic bands on face masks from behind the ear to the back of the head, saving ears from potential sores and blisters.   
"My sister-in-law is a nurse in Hamilton and expressed interest in ear savers, so I figured I would put our lab's printer to good use and help out where I could," says Walker.
Walker searched out the printing plans online. He can print up to 50 ear savers per day at a cost of one dollar. Walker also plans to connect with firefighters in his father-in-law's platoon to see if they can benefit from ear savers.  
Lazaridis Students' Society donates $10,000 to Waterloo Region hospital fund
The COVID-19 pandemic has presented challenges for Wilfrid Laurier University students, but students continue to find ways to give back.
The Lazaridis Students' Society, the student-led governing body of the Lazaridis School of Business and Economics, recently donated $10,000 to the Region Ready fund. The money, originally allocated for events and programming, will help toward the fund's goal of purchasing equipment and supplies needed in Waterloo Region hospitals during this critical time.
The Lazaridis Students' Society announced the donation in an Instagram post on April 19.
"(The Lazaridis Students' Society) and Lazaridis students are proud to give back to the community, which has invested so much into us. We want to thank all the frontline workers for their dedication during these difficult times."
Laurier alumnus shares Zumba talents
Dran Ngo (BA '16) isn't taking the COVID-19 pandemic sitting down. 
Ngo, a certified Zumba instructor since 2013, has remained active with the dance-inspired exercise program traditionally set to Latin dance music. On April 18, Ngo streamed a free live Zumba class from his home in Vancouver through Zoom for members of the Laurier community.
Teaching Zumba at Laurier's Brantford campus was one of the highlights of Ngo's student experience. 
"I wanted to give Laurier students the space to break free of their barriers and take an hour to feel confident and empowered through Zumba," says Ngo. "I know how intimidating it can be to step foot in a gym."
People of all fitness levels were able to participate in the online class. 
"I do my very best to teach the basics and then increase the difficulty as each song progresses," says Ngo. "At the end of the day, even if you didn't get the right steps or found it difficult to follow along, I just wanted everyone to get up and have a good time. We need that right now." 
Paying it forward to assist students in need
Content marketing specialist Kristina Overbeek shared how she and her Laurier colleagues are helping students in need through Laurier's COVID-19 Emergency Fund.
"During a team meeting, my colleagues and I brainstormed the idea to donate what we normally spend on parking to the student COVID-19 Emergency Fund. Suspending our parking fees was a generous gesture and it means an increase in my finances I wasn't expecting. If you find yourself in a similar position and your finances allow, I encourage you to pay it forward, too!"
Bolstering food banks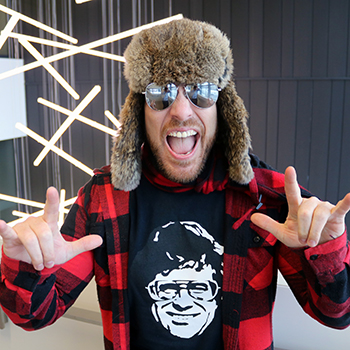 Smoke's Poutinerie restaurants – led by founder, "chief entertainment officer" and Laurier alumnus Ryan Smolkin (BBA '95) – celebrated National Poutine Day by donating two pounds of potatoes to local food banks for every potato dish sold on April 11 and 12.
"Smoke's Poutinerie has always been committed to being a responsible community leader," says Smolkin. "We have the opportunity to come together as Canadians and support each other by providing essentials to community members in need."
Smoke's Poutinerie has more than 150 locations. The restaurant's donation was boosted by Sysco Canada's Foodies Unite, which also donated two pounds of potatoes for every potato dish sold at Smoke's Poutinerie during the two-day event. National Poutine Day was April 11.
Read more about the food bank donation on Narcity.com.
Laurier student receives celebrity thanks for donation of personal protective equipment
Noah Chow is no stranger to supporting community. The third-year Health Science student runs Heath Matters Worldwide, not-for-profit organization that collects unused medical supplies and donates them to countries in need. But with the spread of COVID-19, Chow has directed his organization's efforts to supporting frontline healthcare workers at home.

On April 6, Chow's organization donated 15,000 pairs of gloves in response to Canadian actor and Deadpool star Ryan Reynolds' Twitter post offering autographs, Deadpool merchandise and other incentives to followers who responded to hockey legend Hayley Wickenheiser's call for donations of personal protective equipment for frontline healthcare workers. Earlier that day, Chow dropped off 12,000 pairs of gloves to Markham Stouffville Hospital, where he held a co-op position.

Reynolds made good on his promise. He spoke with Chow over FaceTime and called him a "Canadian hero" in a subsequent Twitter post. Wickenheiser also showed her appreciation by endorsing Heath Matters Worldwide in a video message on Twitter.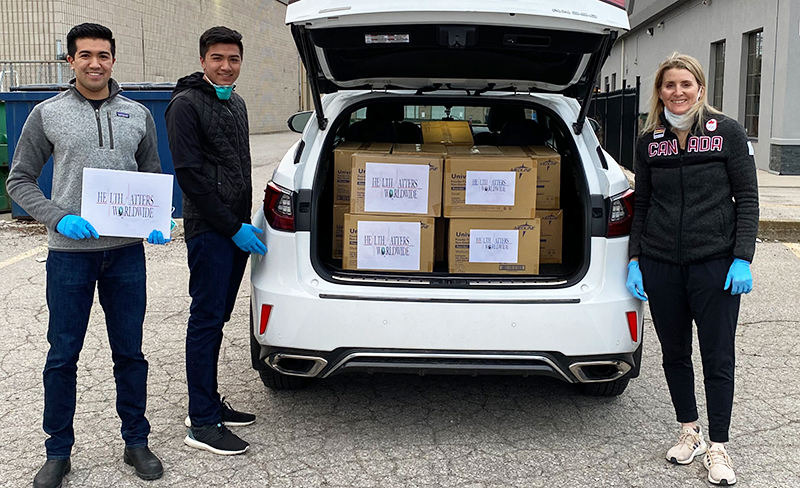 Trivia brings music students together
Students in Laurier's Faculty of Music are staying connected through trivia.
Joshua Manuel, senior administrative assistant to the dean's office in the Faculty of Music, and Kathy Gauci, academic advisor and auditions coordinator, joined with several music students to organize an online trivia night on Zoom.
The event took place Sunday, April 5, with dozens of students participating in a showcase of the well-known sense of community within Laurier's Faculty of Music.
'CareMongering' in Kitchener-Waterloo
Laurier student Amanda Thompson wants to ensure that the needs of marginalized community members in Waterloo Region are met during the COVID-19 pandemic.
Thompson, a social work PhD student in the Indigenous Field of Study program, created the Facebook group CareMongeringKW on March 13. Just over two weeks later, the group has more than 7,700 members and continues to grow.
"I saw the amazing conversations happening in the CareMongering Toronto group and how people were coming together to offer resources and support amidst the pandemic," says Thompson, who is Anishinaabe from Flying Post First Nation. "It inspired me to set up something similar in Waterloo Region."
Group members have donated toilet paper and disinfectant wipes, picked up groceries for neighbours and provided transportation for those who want to avoid using public transit during the pandemic. Thomson says many group members are also encouraging others to support small and local businesses impacted by COVID-19.
Witnessing an act of generosity
Undergraduate business programs assistant Christine Hauck shared a story of generosity by a Waterloo business.
"My daughter is an ICU nurse at Grand River Hospital. She texted me to see if I had any work glasses in my basement and told me the ICU was getting very low on supplies. So I decided to go to Home Depot on Northfield Drive and King Street in Waterloo. I found a bunch of protective eyeglass wear, showing my daughter all the styles. She chose one and said only to buy two since I was paying for them.
"I decided to go talk to a manager and told him what my intentions were. He called the head manager. I am guessing their conversation was a positive one, as they took all of the protective eyeglass wear and donated it to the ICU. They also asked if they could contact my daughter about any other needs the ICU unit might have. I said of course and thanked them with tears in my eyes. This filled my heart with love and compassion."
Help for frontline healthcare workers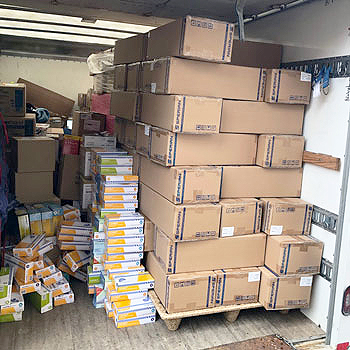 In response to a pressing need for personal protective equipment for healthcare workers during the COVID-19 pandemic, Wilfrid Laurier University has collected thousands of items from across the institution to be donated to Grand River Hospital and the Brant Community Healthcare System.
In total, the university is donating almost 12,000 N95 protective masks, 38,500 disposable gloves and 200 isolation gowns, along with surgical masks, plastic visors, goggles and hand sanitizer. The supplies were donated by Laurier's Student Wellness Centres, the department of Safety, Health, Environment and Risk Management and labs within the Faculty of Science.
Read more about Laurier's donations.
Students raise funds for food bank
Student members of an Enactus Laurier incubation team called Food Fight are working to address food security challenges in Waterloo Region during the COVID-19 pandemic.
The team – normally focused on reducing food waste – has organized a Go Fund Me campaign to raise funds for the Food Bank of Waterloo Region.
"The COVID-19 situation has had several adverse effects on many people in our community, with individuals losing their jobs or having to shut down their businesses," says the team. "This has led to increased strain on food services and availability in Waterloo Region. As a team, we believe that everyone should have access to safe and healthy food, especially in this time of need."
Visit the team's Go Fund Me page to make a donation.
An App to Help Flatten the Curve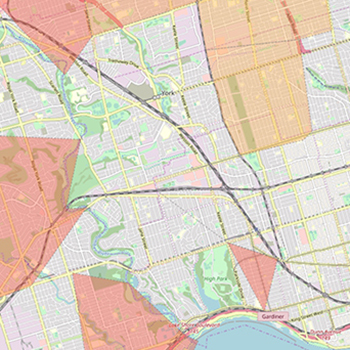 Two Laurier students – Surya Krishnan and Miraal Kabir – are working as part of a team of volunteers leveraging big data in the fight against COVID-19.

The team has created Flatten, an app that utilizes self-reporting information from citizens to understand the spread of COVID-19. The app launched on March 23 and so far has more than 9,200 responses.

"It is important to understand that this platform adds real benefit to this country," says Krishnan, who serves as a team lead on the Flatten project. "When as many citizens as possible fill in this anonymous form, we can accurately inform healthcare systems of the true spread."

The Flatten app allows individuals to self-report symptoms, helping accelerate tracking of COVID-19; view an infection "heat map" of residential areas where there is higher densities of individuals who have tested positive for COVID-19; and identify regions that have a high density of immunosuppressed and elderly citizens.

The Flatten team includes engineering, computer science, business and molecular genetics students from the University of Toronto, University of Waterloo, University of New Brunswick, McMaster University and Wilfrid Laurier University.

Krishnan and Kabir are both Business Administration and Computer Science double degree students at Laurier.
Tulips to brighten the day
Laura MacGregor, an adjunct faculty member at Martin Luther University College, expressed gratitude for the kind gestures of her colleagues.
"The last two weeks since the university closed have been particularly difficult. In addition to dealing with the stress of COVID, self-isolation and moving my course to an online learning format, I have been caring for my medically fragile young adult son. On March 15, he was sent to hospital by ambulance with non-COVID pneumonia and has been on a ventilator in the ICU ever since.
"Luther has been nothing short of amazing as I try to juggle managing my teaching responsibilities with the challenge of caring for a very ill child in St. Mary's hospital during a pandemic. The faculty have offered virtual assistance and support at every turn and I am enormously grateful. Two days ago, I discovered a bunch of tulips on my front porch. They had been left there by a Luther friend, mentor and colleague. I cannot find the words to adequately express my gratitude."
Offering procurement solutions
A Waterloo Region-based software company and Laurier co-op employer is making it easier for organizations to source supplies needed during the COVID-19 outbreak.

Bonfire – which specializes in helping governments and public-sector agencies make quicker and improved procurement decisions – has made its procurement tool "Bonfire Strategic Sourcing" free until July 4.

The tool digitizes the procurement process, connecting organizations and suppliers while reducing the need for in-person meetings.

"To the extent that this can help people and procurement teams – government procurement teams, specifically – we thought, why wouldn't we just offer this for free?" Bonfire's CEO Corry Flatt tells Communitech News.

Read the Communitech News story.
Manufacturing Assistance During the
COVID-19 Crisis
Guelph auto parts maker Linamar, led by Laurier honorary degree recipient Linda Hasenfratz, is examining the possibility of shifting to manufacturing ventilators in an effort to help during the COVID-19 outbreak.

"We are hopeful that we can play a role in helping to deal with the consequences of this global pandemic," Hasenfratz told the Guelph Mercury Tribune.

Read the Guelph Mercury Tribune story.
Improving the Environment
A community-minded Laurier employee in the Faculty of Graduate and Postdoctoral Studies shared a constructive social-distancing activity she has been undertaking: cleaning up the neighbourhood.

"I've recently been taking walks around my neighbourhood and on a number of occasions noticed garbage close to and near the river and ravine where I live. On the weekend, the weather was good (ground dry, no snow, sunny day). I decided to take advantage and brought a couple of black garbage bags with me to do my part to help the environment, get some physical exercise and practice 'social distancing.' Not many people pick up garbage, so there wasn't an issue with being overcrowded!"

The effort yielded two large bags of garbage, as well as discarded items of clothing, a coffee table, an artificial Christmas tree and even an almost-new bicycle.
A Drawing to Brighten the Day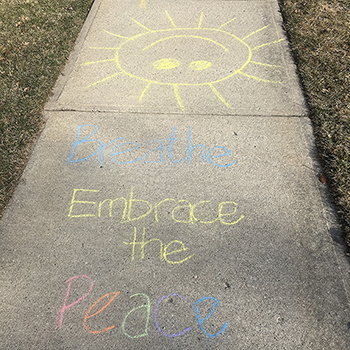 Christine Haywood, health and safety administrator with SHERM, shared a photo of a chalk drawing she noticed while out for a walk on Sunday, March 22.
"My husband, myself and our family pet Docket were greeted by some awesome positive vibes," says Haywood.
Spreading Gratitude
Despite the current challenges, there are many things to be grateful for: it's a message that Laurier's mental health advisory team wants to share with the Golden Hawk community. From March 23 to 26, students, faculty, staff and alumni are invited to share what they are grateful for during Gratitude Week. The annual campaign, which normally sees members of the Laurier community posting brightly coloured sticky notes bearing messages of gratitude around our campuses, has been adapted to an online format.
"People are feeling a lot of things so now, more than ever, expressing gratitude is important and beneficial for our well-being and the well-being of our community," says Nathan Reeve, wellness education coordinator at Laurier's Waterloo campus.
To express your gratitude, follow Laurier's Student Wellness Centres on Instagram or Facebook (Waterloo and Brantford) and reply to their story on Monday, March 23 or post a message to your personal accounts and tag Laurier Wellness.
Working to Help Healthcare Employees
A company led by Laurier alumnus Jeremy Hedges is working to help frontline workers during the COVID-19 crisis. Hedges is president of the Kitchener-based 3-D printing company InkSmith, which has shifted gears to produce face shields it hopes can be utilized by healthcare employees.
Meeting the Need for Hand Sanitizer
Laurier alumnus Neal McCarten serves as director of operations at The Dairy Distillery in Almonte, Ontario, which has shifted production from vodka to sanitizer during the COVID-19 pandemic. The company – which normally uses milk byproducts to produce a vodka called "Vodkow" – began considering how it could help after being contacted by local groups in need of sanitizer.
Sharing Ideas for Easy Meals
Thoughtful student staff members in the Brantford campus Dean of Students Office are working to support those who may be facing food barriers and food insecurity.
Staff and faculty are being asked to submit an easy recipe with minimal ingredients (or a link to an easy online recipe) to lbstudentsupport@wlu.ca. Include your name, job title and even a picture of the completed meal if one is available.
"We hope that this initiative will virtually connect students with faculty and staff, while also providing some practical meal prep ideas that involve minimal ingredients. We are also providing local food bank information and daily activity ideas for getting moving!"
A Wonderful Way to Start the Day
Sarah Syrett, a Bachelor of Social Work field education coordinator and interim Wellness Education coordinator, shared a story about Stephanie Dinsmore, an accommodation consultant at Laurier who is running a daily morning yoga class on Microsoft Teams.
"Earlier this week, I received an email and calendar invitation for a staff-led mindfulness yoga stretch happening every workday from 8:45 to 9 a.m. Stephanie Dinsmore is the organizer and she kicked it off yesterday with an open invitation to all staff and faculty. Stephanie holds a lot of expertise in the areas of mental health and physical wellness, so it is wonderful to see her using her gifts to make such a positive impact on our Laurier team.
"This 15-minute practice has already proven to be a wonderful way to start the remote workday in terms of preparing my brain and body, but also for the social connection piece. It has been nice to start the day with people, even if only by video!"
Being a Helpful Neighbour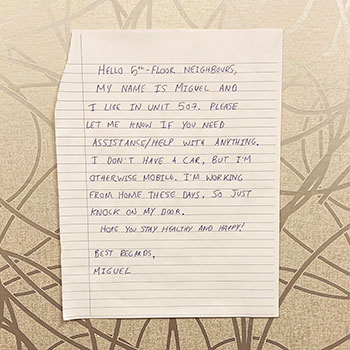 Instructor and PhD candidate Shiva Mohan shared a story about Assistant Professor Miguel Sioui, who posted notes around his apartment building offering assistance to neighbours.
"Dr. Miguel Sioui, my friend and colleague from the Department of Geography and Environmental Studies, posted these notes in his apartment complex. It's clear his attentiveness and kindness reaches beyond the walls of Laurier's classrooms. Small acts like this send reverberations of love, kindness, compassion and, most of all, hope! It is my sincere wish that highlighting this act inspires others."
Appreciation for those keeping Laurier's campus communities safe
Tammy Lee, director of Laurier's Special Constable Service, shared her gratitude and appreciation for Laurier's platoon of special constables who, as first responders, continue to keep the university's campus communities safe during these uncertain times.
"This is a stressful time for everyone around the world, but as first responders, there is not an option to step down when crises arise," said Lee in a March 19 email to her team. "Instead, we are called to lead, remain at our posts, and do our jobs to the best of our abilities. Thank you for your leadership and your continued commitment to our Laurier community."
Grateful Notes from Social Media
Thusany Puvanendran expressed thanks to Laurier's Global Engagement and Exchange team on Twitter.
Also on Twitter, Joel Robinson, educational technologies administrator at Laurier, expressed gratitude to the Laurier team.