For the sixth year in a row, a team of economics students from the Lazaridis School of Business and Economics at Wilfrid Laurier University have advanced to the final round of the Bank of Canada's Governor's Challenge.
Teams from 22 Canadian universities participated this year, each providing an analysis and forecast on developments in the economy and a monetary policy recommendation that would keep inflation in line with the bank's target of 2%. Students presented via video conference to a panel of Bank of Canada judges in mid-November. The final round of competition will be held virtually on Feb. 13.
"I'm exceptionally proud of our students," says Wing Chan, professor of economics and the team's coach. "Analyzing and forecasting the economy in a year unlike any other would be a huge task for an economist, let alone students, but the team met the challenge head-on, learning about alternative monetary policies, studying past economic crises and seeking new and creative solutions."
In the past, students in the competition were asked to analyze the economy during relatively normal years and make recommendations on the bank's key interest rate. This year, however, the bank has decided to keep the key interest rate at 0.25% for the foreseeable future. Without this tool, students had to search for alternative ways to lift the inflation rate to the bank's target.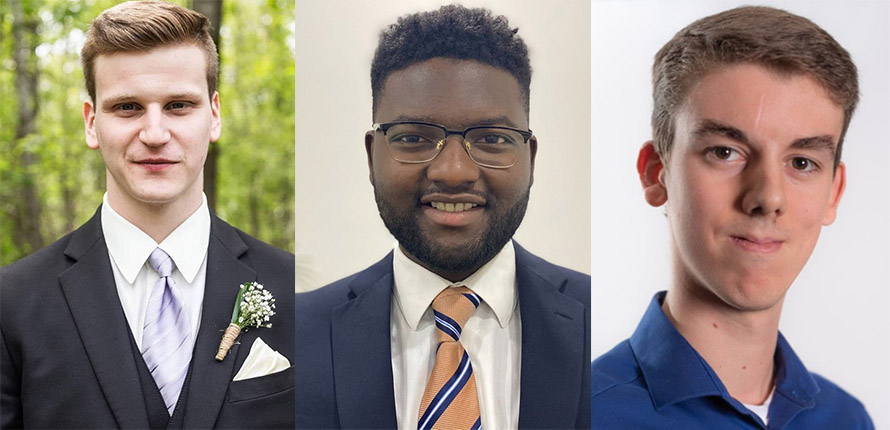 From left, Herman Wagnleithner, Samuel Oluwalana and Robert Wilson.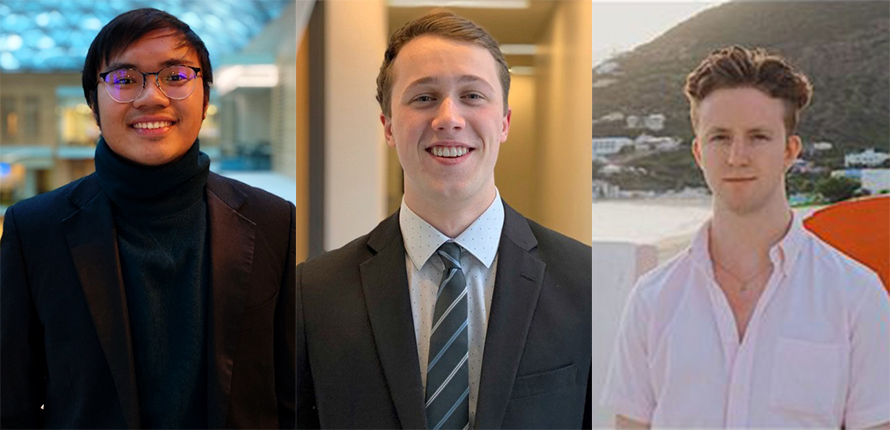 From left, Vincent Lawrence Vigal, Jacob Mathon and Vincent Slawski.
The team – Jacob Mathon, Samuel Oluwalana, Vincent Slawski, Herman Wagnleithner, Vincent Lawrence Vigal and Robert Wilson – looked at how the Bank of Canada, as well as the U.S. Central Bank, the Bank of England and the European Central Bank, among others, responded during past economic crises, including the 2008 Recession. They also learned about alternative policies, such as credit easing and quantitative easing – where central banks purchase financial assets to inject money into the economy – through their professors and by studying the work of other economists.
"Usually you're modelling the economy when it's normal, but I think there's a lot more value to modelling it when everything is so uncertain," says Vigal. "We had to push ourselves to our limits in terms of innovation."
Laurier's team worked together remotely, mostly through Zoom, to prepare. Being unable to work in-person made communicating more challenging, but it was also a learning opportunity.
"In previous years, we could have sat together to work on it as a team but, this time around, we couldn't," says Oluwalana. "We each had our individual roles and responsibilities, and then we'd meet as a group for updates. It helped us learn how to be the best possible teammates, since we didn't want to let each other down."
From now until the finals, the team will be watching the news and continuing to adjust their models to reflect the ever-changing economy.
"This year's competition was like no other, so we had to be unconventional and think outside the box," says Vigal. "We had to take Laurier's successes over the past years and build on that – and I think we rose up to the challenge."
The winning team will be named the Governor's Challenge National Champion and will receive an award from Bank of Canada Governor Tiff Macklem. Laurier students won the competition in February 2018 and 2019.