Students in Wilfrid Laurier University's co-operative education program continue to develop new skills and make meaningful contributions in the workplace during the COVID-19 pandemic. 

During the summer 2021 work term, more than 640 students worked remotely and in person for co-op employers in healthcare, government, finance, community services and other sectors.
Below, four Laurier co-op students reflect on their recent work experiences and the skills they developed during the summer work term.
Contributing During COVID-19
Fourth-year Psychology student Avneet Brar recently completed a work term with Region of Waterloo Public Health. Brar's responsibilities included booking vaccination appointments and helping track COVID-19 case counts.
With an interest in healthcare, Brar says the role allowed her to develop future-ready industry skills while contributing on the frontline of a global health crisis.

"Working in public health made me feel like I made a difference during COVID-19," says Brar. "I'm very grateful for that."
Success in a Remote Environment
Third-year Psychology student Rwaha Zafar recently completed his role as a communications and digital marketing assistant with healthcare provider CarePartners. Working from home, Zafar developed and executed digital marketing campaigns for the company's media channels.
Initially challenging, Zafar says working remotely helped him develop skills necessary for the future.

"I have learned how to become more independent and explored new problem-solving tactics," says Zafar. "Ultimately, I have become more self-sufficient, productive and accountable because of remote work." 
Sparking Creative Ideas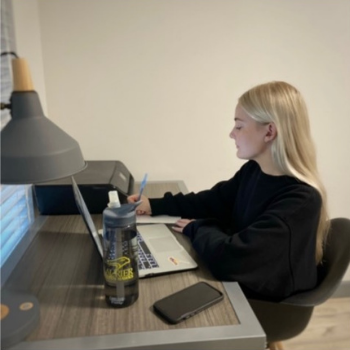 Communications and Cultural Studies student Chloe McFadden worked for the Waterloo Region Museum in marketing and communications, promoting events such as online classroom visits and socially distanced outdoor activities.
McFadden says working remotely helped fuel her creative side.

"When working from home, the most random thing will spark an idea," says McFadden. "The pandemic has been a very creative time for me, and I've applied that to my work at the museum."  
Exploring Future Careers
Third-year Political Science student Lenny Lombardi worked as a bylaw officer with the City of Hamilton. Lombardi investigated potential property maintenance violations. Interested in law, Lombardi says his work term with the City of Hamilton provided an opportunity to explore a career path he hadn't previously considered.

"My co-op experience created an interest in law enforcement," says Lombardi. "It's a career path I may explore in the future."

Lombardi also appreciated the flexibility the City of Hamilton provided during his work term. He was allowed to ride his bicycle to investigation sites, as the pandemic prevented him from obtaining a G license required to drive a city vehicle. 
Further Reading
Read more about Laurier co-op students' work experiences during the COVID-19 pandemic: