Colleen Kim Daniher, who was recently appointed an assistant professor in Wilfrid Laurier University's Department of Communication Studies, has won the Association for Theatre in Higher Education's 2021 Outstanding Article Award. Daniher was honoured for her paper published in Theatre Journal entitled "Looking at Pauline Johnson: Gender, Race, and Delsartism's Legible Body."
Daniher's award-winning paper examines how the gestures and dress of 19th-century Kanien'kehà:ka (Mohawk) poet-performer E. Pauline Johnson positioned her within American Delsartism, a method of physical movement and emotional expression taught by French performing artist François Delsarte.
"Delsartism was an expressive system of gesture that was extremely important to feminist movements in Europe and North America during the late 19th and early 20th centuries, but scholars have mostly written about it in relation to American, middle-class, white women," says Daniher. "Pauline Johnson was an Indigenous celebrity at a time when women, let alone Indigenous women, were few and far between as authors, writers and performers. I think Pauline may have been aware of how Indigenous women were perceived in the culture at the time and I was interested in looking at what she did to disrupt those ideas."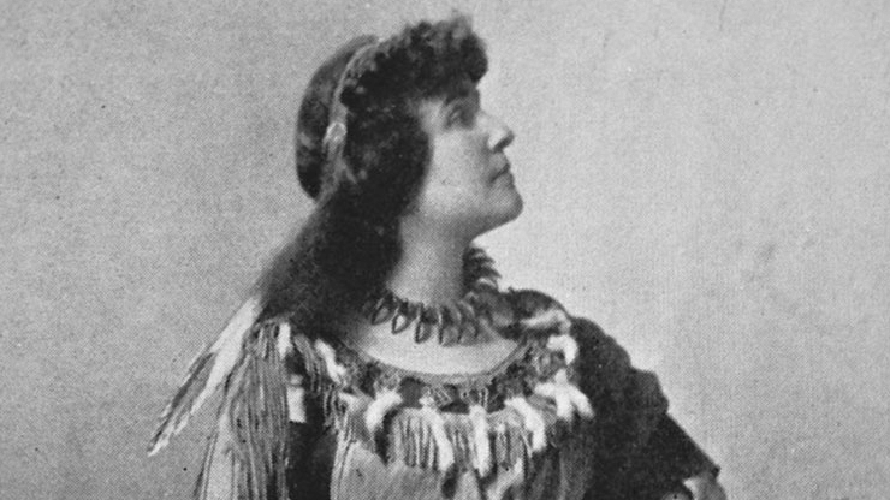 E. Pauline Johnson (photo credit: Brant Museum and Archives)
Daniher was also intrigued by the local connections to her subject, as Johnson was born on the Six Nations of the Grand River reserve. Part of her archival research took place at Chiefswood National Historic Site in Ohsweken, Ont., and the Brant Museum and Archives in Brantford.
A self-described "musical theatre nerd" with a PhD in Performance Studies from Northwestern University in Illinois, Daniher is fascinated by "how bodies themselves function as media and how that illuminates our historical and contemporary understandings of race, gender and sexuality." Johnson's history was a natural extension of her research focus.
"I wanted to revisit the performance reviews of Pauline Johnson, which were primarily written by Anglo, white, Canadian reviewers, and be skeptical about what they saw and said because a lot of them actually wrote things that were impossible to see on the stage," says Daniher. "Historical accounts of what people saw might be quite different than what she intended, so I wanted to know what Pauline did and what it meant to those who watched her."