Warning: This story contains graphic details about the realities of the war in Ukraine.
Both on the ground in Ukraine and at the university's campuses, Wilfrid Laurier University students and alumni are working to address the humanitarian crisis created by Russia's ongoing invasion of the Eastern European country.
Alumnus Yaroslav Fedorchuk (BA '22) and Laurier student Sofiya Bezruchko are two individuals making a difference. During interviews in late July, Fedorchuk and Bezruchko discussed the humanitarian initiatives they are involved with to assist Ukrainians impacted by the war.
Yaroslav Fedorchuk, Laurier alumnus
You volunteer with humanitarian organizations on the ground in Ukraine. How are you helping Ukrainians impacted by the war?
Because I speak English, I have been liaising between a Canadian-founded humanitarian group, the Ukraine-Poland-Canada International Humanitarian Aid Group, and Ukrainian citizens on the ground supporting humanitarian efforts. I have travelled between Kyiv and Lviv delivering food, clothing and hygiene products to my fellow Ukrainians and equipment such as helmets, vests, drones and other technology to the military.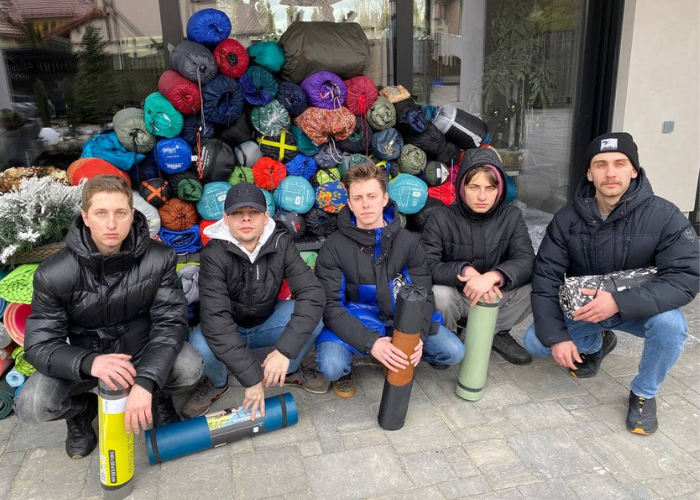 Yaroslav Fedorchuk, left, with humanitarian workers in Ukraine.
I am also involved with an online campaign called "If Not for the Ukrainians." The campaign aims to educate people outside of Ukraine about the many positive impacts our people have contributed to the world, such as the invention of the helicopter and the world's largest aircraft, which was destroyed by the Russians. It's important for the world to know how Ukraine contributes globally and the negative impacts the war has on all of society.
You've been in Ukraine since the beginning of the Russian invasion. What has that been like?
I have been in Ukraine since the fall of 2021, as pandemic restrictions impacted my ability to return to Laurier to complete my studies in person. And I knew I couldn't — and wouldn't — leave Ukraine after the invasion started. The first few months of the war were really scary. The thought of calling friends and family members and not having them pick up the phone was terrifying.
My family and I live in Kyiv, and the conquest of our city has been the primary goal of Russian forces since the start of the war. Kyiv is still in constant danger. Airstrike warnings go off daily and we have reinforced our basement to help protect against missile strikes, which have destroyed numerous buildings.
There is so much destruction. You see roadside memorials. You hear horror stories. We have family friends who live in Bucha. They miraculously survived the massacre, but their neighbours were shot and killed. It takes a heavy mental toll. People have been buried in front of their homes, their backyards and even playgrounds because there wasn't an opportunity to give them a proper funeral while Russian soldiers occupied the city. Thousands of civilians have been killed all over Ukraine. Children were being shot in front of their parents. All of this is still happening in other cities, and people die daily. We refuse to put up with it.
In your opinion, what kind of support do Ukrainians still need?
I think we need to not become desensitized to the war. I see it becoming normalized as time goes on. It is still happening, and we can't forget this. Financial aid is always needed. People have lost everything and will need to rebuild their lives.
I am very grateful for the support of Canadians and the Laurier community. I see the support that is out there and it's uplifting to know that the world is behind us. So many good things are being done, but this evil must be stopped in Ukraine so that it cannot spread any further.
Sofiya Bezruchko: Laurier student, Laurier Helps Ukraine club president
What kind of humanitarian efforts are you involved with?
Laurier Helps Ukraine formed quickly after Russia invaded Ukraine. I am the president of the club, which is made up of Laurier students from a variety of cultural backgrounds who want to help Ukrainians during this terrifying time. Our members are involved in fundraising, awareness campaigns and advocacy work. We are working hard to obtain financial support for an emergency bursary that would be available to Laurier students from Ukraine and other countries impacted by genocides, war and famine. 
International students do not qualify for tuition assistance from the government and because they were already in Canada when the war started, they are not eligible for refugee-assistance programs.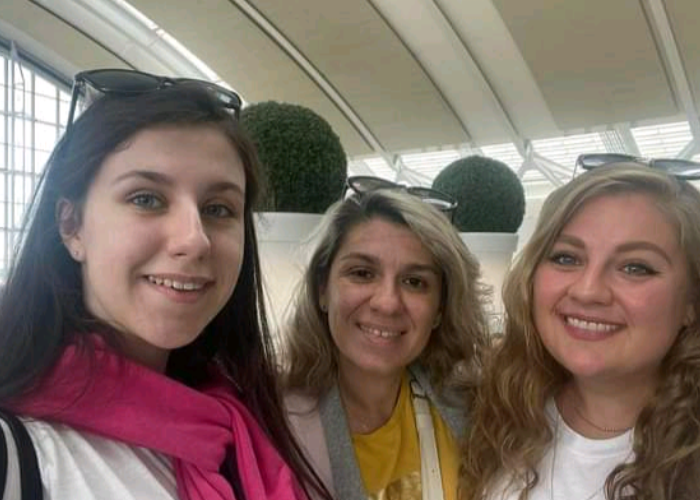 Sofiya Bezruchko, right, with her aunt and cousin from Ukraine.
Tuition fees and living costs range between $50,000 to $60,000 per year depending on their field of study; the war in Ukraine has destabilized and jeopardized their sense of well-being, access to education and a future that would allow them to help family members currently in Ukraine.
I hosted my aunt and cousin who arrived from Ukraine in June. They were really grateful for the generosity they experienced here in Canada, however, due to my grandmother's poor health and my uncle needing to stay behind, they have returned to Ukraine temporarily. My aunt and I are hoping to co-ordinate efforts to bring my grandmother to Canada in the near future to seek further treatment here.
How has Laurier Helps Ukraine helped make a difference for Ukrainians impacted by the war?
To date, Laurier Helps Ukraine has raised $3,000 with most of the funds – $2,200 – donated to the Canadian-Ukrainian Foundation and Help Us Help. We also contributed to a medical-supply fundraiser organized by the Ukrainian Orthodox Church of Saint Sophia in Waterloo and Insight, a Ukrainian LGBTQIA+ rights group, as well as the International Students Overcoming War scholarship fund to help fellow students overcome war.
We are also hosting a food drive for newly arrived Ukrainian families in the Waterloo Region during a Ukrainian community picnic on Aug. 28 at Waterloo Park. Additional fundraising initiatives will be held during the fall term. Details about those events will be shared on Laurier Helps Ukraine's Instagram account.
How can members of the Laurier community assist Laurier Helps Ukraine?
I think the best way Laurier community members can assist Laurier Helps Ukraine is to support the International Student Emergency Fund. The fund supports international students at Laurier who are currently living with trauma caused by war and humanitarian catastrophes in their home countries. Students from Ukraine at Laurier need financial assistance for housing and tuition, as any support they may have received from their families back home has stopped because of the war. Laurier Helps Ukraine will be recruiting Laurier students who are eager and passionate about helping Ukraine and the Ukrainian community during the 2022-23 academic year. Interested students can complete the online application form.
The following support is available to members of the Laurier community impacted by the war and to all those impacted by this situation.
The Student Wellness Centres: 519.884.0710 x3146 or wellness@wlu.ca.
Here 24/7: 1.844.437.3247.
Delton Glebe Counselling Centre: 519.884.3305 or glebecentre@wlu.ca. 
Dean of Students' Office: 519.884.0710 x3533 or deanofstudentswl@wlu.ca (Waterloo).
Laurier's Special Constable Service: 519.885.3333 (Waterloo)
Laurier's Employee and Family Assistance Program
Related Stories: