Lake ice conditions across the Northwest Territories have been changing as a direct result of climate change. Ice has been forming later, growing thinner and melting earlier, resulting in a host of environmental and safety concerns for northerners.
With this in mind, research led by Homa Kheyrollah Pour, assistant professor of Geography and Environmental Studies at Wilfrid Laurier University and the Canada Research Chair in Remote Sensing of Environmental Change, aims to monitor lake ice growth in real time using sensors called "Snow and Ice Mass Balance Apparatuses," known as SIMBA for short.
Kheyrollah Pour's team has installed SIMBAs on Ryan Lake and Landing Lake, approximately 10 to 15 kilometres north of Yellowknife's core. The sensors are measuring ice thickness and snow depth at 15-minute intervals.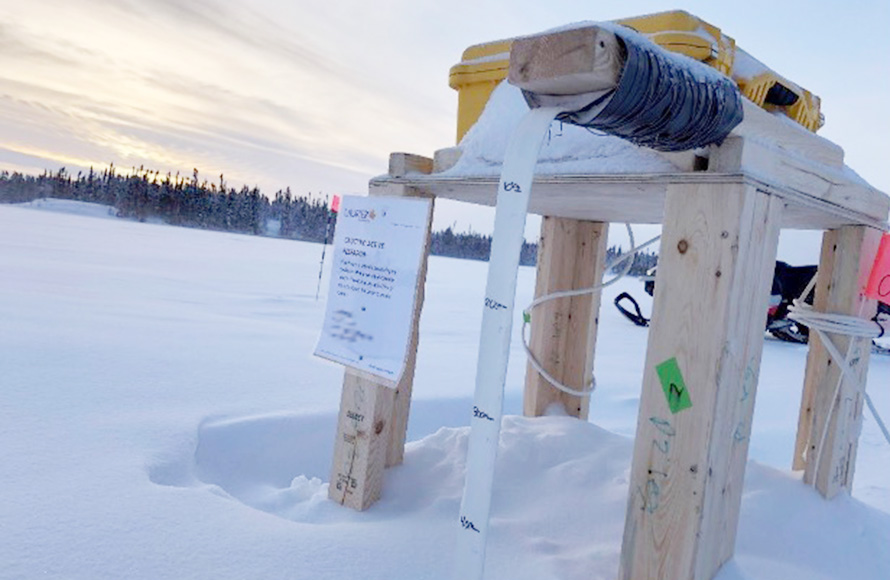 A Snow and Ice Mass Balance Apparatus (SIMBA) sensor installed on Landing Lake, approximately 12 km north of Yellowknife. (Photo credit: ReSEC Lab)
Arash Rafat, a Master of Science student being supervised by Kheyrollah Pour, is actively reviewing measurements of ice thickness, snow depth and air temperatures across both lakes. The goal of his master's project is to improve understanding of how lake ice is adapting to a changing climate and how real-time measurements enable the protection of northern Canadian communities and infrastructure.
"Across the north, lake ice is not as reliable as it once was," says Rafat. "To plan for the future, communities will need to understand how the ice is changing, and how shifting climate and weather play important roles in shaping the ice. Using instruments like SIMBA is one way of understanding these changes."
Rafat and Kheyrollah Pour's research is part of the Cumulative Impact Monitoring Program led by the Government of Northwest Territories, which collects environmental information to support northern resource decision-making. The SIMBAs transmit measurement data to a web server that is accessible anywhere with an internet connection, allowing for easy community access.
"Real-time monitoring allows community members to have more confidence in ice conditions before heading out," says Kheyrollah Pour. "With two SIMBAs currently installed and plans for more to come, we are setting up a network of sensors across the territory to help improve community safety."