The enthusiasm among Wilfrid Laurier University students supporting community and workplace partners through virtual placements, internships and course-related projects has not waned during the remote environment of the pandemic.
Laurier courses with a community or workplace partnership component provide students with meaningful opportunities to fuse course content with future-ready experiences outside of the traditional classroom. The courses also allow Laurier and its students to give back in their host communities by meeting the needs of community partners.
During the fall 2021 term, more than 1,000 students participated in courses with virtual experience-based learning opportunities in education, social services and other sectors in Waterloo Region, Brantford-Brant and beyond.
Virtual experiences have allowed our students to support community partners while developing skills that will be helpful in the future," says Lisa Jarvis, associate director of community and workplace partnerships at Laurier. "We are grateful to our partners for providing opportunities for our students to demonstrate their enthusiasm, creativity and commitment."
Three outstanding examples of fall 2021 Laurier community and workplace partnerships:
Learning French through comic strips
FR370: Graphic Novels and Animation with Associate Professor Simona Pruteanu, Department of Languages and Literatures
Laurier students in the third-year French course Graphic Novels and Animation created bandes dessinées – comic strips written in French – to help elementary and secondary school students learn about social justice issues identified by teachers at three partner schools in the Waterloo Region District School Board.
Unlike early comics that primarily featured humour, more recent bandes dessinées use a variety of genres and makes them useful teaching tools. Laurier students also designed accompanying learning activities to help French language learners strengthen specific skills, such as verb tense and reading comprehension.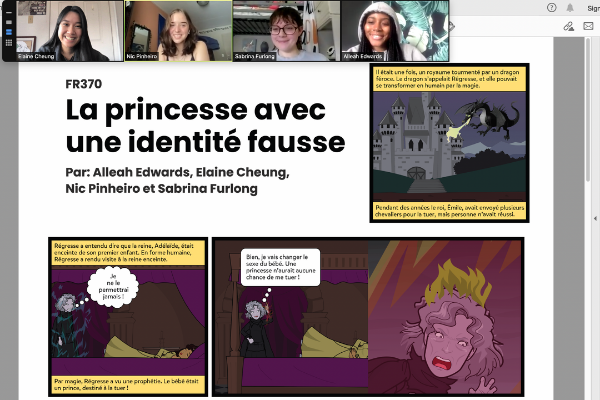 Photo: Laurier student Elaine Cheung (top left) with classmates Nic Pinheiro, Sabrina Furlong and Alleah Edwards.
"Our partnering teachers asked for educational resources about topics such as racism, truth and reconciliation, gender identity and post-war women's rights," says Simona Pruteanu, an associate professor in Laurier's Department of Languages and Literatures and the course instructor. "These topics challenged my students to think like educators and create grade-appropriate stories and resource materials in French."
Students Elaine Cheung, Alleah Edwards, Nic Pinheiro and Sabrina Furlong used the fairytale genre to create a bande dessinée about gender identity. Cheung says the project offered an excellent opportunity to develop professional communication skills.
"We had to be open to feedback from our partner teacher and find ways to incorporate that feedback while sticking to our storyline," says Cheung. "Communicating openly as a group about how to achieve a strong final product became really important. We also had to be purposeful with the language and imagery we used in our bande dessinée so that it would resonate with students in grades seven and eight.
Helping adults living with disabilities get active
KP371: Disability, Developmental Delays and Physical Activity with Margaret Schneider, associate professor, Department of Kinesiology and Physical Education
Students in the third-year Kinesiology and Physical Education course Disability, Developmental Delays and Physical Activity worked with long-time Laurier partner KW Habilitation, a non-profit organization that supports youth and adults living with developmental disabilities, to design individual and group physical activity programs.
The course, taught by Kinesiology and Physical Education Associate Professor Margaret Schneider, examines key theories, concepts and terminology associated with disability studies, as well as the role of adapted physical activities in meeting the needs of people living with physical and developmental disabilities.
Eight KW Habilitation participants volunteered to create video profiles that outlined their abilities, the types of physical activities they are interested in and their barriers to participation. Students selected a person to design an activity program for and met with them virtually to ask follow-up questions.
"Meeting with the participants is a highlight of the project," says Schneider. "Students get real-world feedback about their ideas, which gives them a better understanding of which activities may or may not meet their person's needs."
Programs created for KW Habilitation participants and staff included a photography-inspired scavenger hunt, tabletop basketball and tic-tac-toe yoga, among others.
"Laurier students consistently provide high-quality programs for our people," says Jenn Delhorbe, supervisor of community and employment supports with KW Habilitation. "They care about our peoples' needs. The programs are well designed, professionally written and can be implemented by any one of our staff who picks them up."
Delhorbe says KW Habilitation participants take great pride in being a part of Laurier students' learning experiences.
"Because we have worked with Laurier students in the past, our people know they're getting a good deal and enjoy helping the students," says Delhorbe. "During the pandemic, the energy and new ideas Laurier students bring has been uplifting."
Experience for a career in the classroom
YC300: Youth and Children's Studies with Danielle Law, associate professor; Youth and Children's Studies, Psychology
In the third-year course Youth and Children's Studies, Laurier students support organizations that assist children and youth through weekly placements while learning about child development and behaviour theories with Associate Professor Danielle Law.

During the fall 2021 term, Law's 54 students supported online homework groups, English conversation circles, youth library programs and outreach initiatives, among other experiences.

"When students work with children and youth, they get to see the theories we talk about in class come to life," says Law. "They also network in the community and get a feel for what certain career paths might look like."

Many students in Law's class will continue their placements during the winter 2022 term as part of the course Youth and Children's Studies II.

Laurier student Valerie Barlow says her placement at The Net program in her hometown of Ancaster, Ontario has affirmed her decision to pursue a career in education. Organized through Ancaster Community Services, the program aims to connect youth and engage them in the community.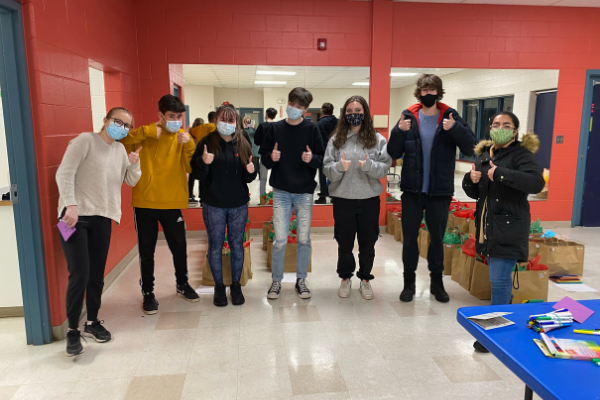 Photo: Valerie Barlow (left) with The Net participants.

During her placement, Barlow led weekly online meetings and oversaw 20 youth involved with assembling holiday care packages for local seniors.

"I want to go to teacher's college after I graduate, so taking courses with community placements is a great way to get real-world experiences with children and youth," says Barlow.