The Shad Laurier program wraps on July 29, following a month of 56 Grade 10 and 11 students from across Canada taking up residence at Wilfrid Laurier University's Waterloo campus to participate in collaborative science, technology, engineering, arts and mathematics (STEAM) programming to find solutions to real-world problems.  
Using the skills learned in workshops, lectures, and hands-on exercises throughout the month, Shad students worked together in design teams to pitch products or services to address the program theme of wellness.  
Rachel, a Grade 10 student, values the entrepreneurship-based learning throughout the program. Her favourite talk so far was a venture panel of Laurier alumni who began a start-up called AquaSONG and explained their trial-and-error process.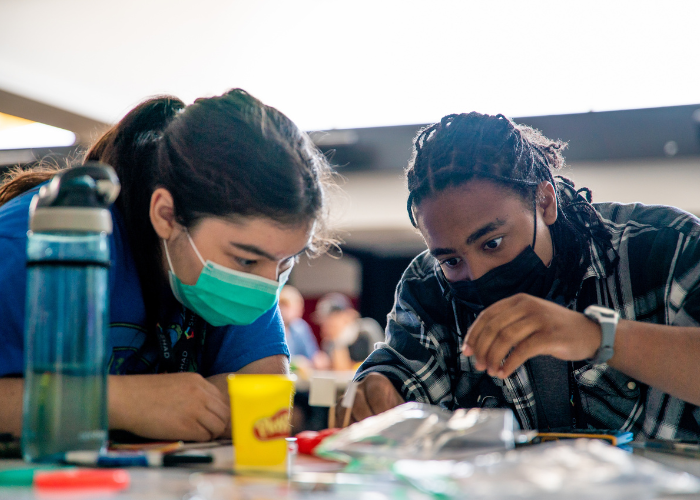 "A lot of the information we're learning about entrepreneurship isn't really taught this in-depth in high school," said Rachel. "Our design groups are full of students with different skills in many different topics, but we're all learning useful skills in entrepreneurship." 
Shaya is a Grade 10 student who has been enjoying technology and engineering-based learning. The robotics workshop, Coding Creativity, held on July 15, provided him with skills to solve interesting problems using robotics equipment provided by Texas Instruments. His favourite speaker so far has been Martin Qiu, an associate professor of marketing at Laurier, who spoke on game theory and its applicability to real life. 
"I've been loving the variety of topics we've been learning," said Shaya. "A lot of the topics are applied to the real world, and it allows us to contextualize how companies use them."  
During their daily schedules, each design team gets an hour to work with their design leaders and discuss key learnings that could be applied to their project.  
"Our leaders take us through steps to create our idea into a business," said Grade 10 student Madison. Madison's group's design project will be an app that promotes self-care, addressing mental health issues that arose during the pandemic.  
Key speakers for the nationwide Shad program included Toni De Mello, human rights lawyer; Lili Liu, dean of the Faculty of Health at the University of Waterloo; Melissa Strachan, clinical manager of community services at Carizon, and Patrick Lor, managing partner at Panache Ventures. Talks were moderated by Charlene VanLeeuwen, Shad UPEI program director.  
Faculty at Laurier shared their expertise as guest lecturers and speakers, including Faculty of Science members Scott Smith, Ciann L. Wilson, Stephanie DeWitte Orr, Michael Cinalli, Christian Danve M. Castroverde, and Gena Braun, as well as Martin Qiu from the Lazaridis School of Business and Economics. Jason Whalen and Adrian Krebs from the Laurier StartUp lab moderated a venture panel with student panelists Spencer Lynn, Hanna Roglic, Peter Poydenko, Gerald Rossen and Sean Ryan.