The lives of 183 people will be positively impacted thanks to the generosity of Wilfrid Laurier University blood donors during National Blood Donor Week 2022.
Sixty-one members of Laurier's Partners for Life team contributed a life-saving blood donation during National Blood Donor Week, held June 13 to 18. The annual event celebrates the commitment of those who help keep Canada's national inventory of blood products strong while raising awareness of the continuous need for blood donations. One blood donation – separated into red blood cells, plasma and platelets – can help up to three people in need.
Laurier supports Canadian Blood Services' Partners for Life program by making an annual pledge of donations. For 2022, Laurier has pledged 450 units. To date, Laurier blood donors have contributed 257 units of blood toward the university's goal.
"Canadian Blood Services relies on community partners like Laurier to supply local hospitals with blood products required by patients in need," says Gina Levya, community development manager with Canadian Blood Services. "We are so thankful for the continued support from Laurier blood donors and Wilfrid Laurier University during National Blood Donor Week and throughout the year. Patients in Waterloo Region and Brant benefit from your life-saving donations."
First-Time Donor Gives During National Blood Donor Week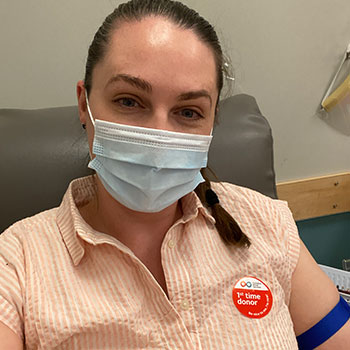 Laurier staff member Kimberly Elworthy heeded the call to donate blood and gave for the first time during National Blood Donor Week.
"I am inspired by blood donors and advocates in the Laurier community," says Elworthy. "I had been meaning to give blood for a while now and National Blood Donor Week seemed like the perfect time to get started."
Elworthy's blood type is O-negative, which makes it compatible with all other blood types. In a critical emergency — when there is no time to confirm a patient's blood type — O-negative blood can make a life-saving difference.
Mobile Clinics Coming to Brantford this Summer
New and returning Laurier blood donors in Brantford can give at one of three mobile clinics organized by Canadian Blood Services in July and August:
Members of Laurier's Partners for Life team can donate at any Canadian Blood Services clinic location in Canada and register their donation with Laurier's pledge. Book an appointment at blood.ca.
It is safe to donate blood during the COVID-19 pandemic. Visit the Canadian Blood Services website for details about screening measures and cleaning practices. If you are unsure if you are eligible to donate, please visit the Canadian Blood Services eligibility page or call 1.888.2.DONATE to speak with a nurse.