Wilfrid Laurier University's Centre for Research on Security Practices (CRSP) recently opened a collaborative research space on Laurier's Brantford campus. Located on the second floor of the Wilkes House building, the centre is available for use by any CRSP member and their research partners, and by graduate and undergraduate researchers.
"We want to provide a physical space on the Brantford campus to support research and foster an intellectual community for our faculty and students, and the local community organizations that many of us are doing really important work with," says Carrie Sanders, professor of Criminology and director of CRSP.
CRSP formed in 2019 with the vision to explore a broad range of practices and experiences of human security in local, national and international contexts. Its members include CRSP Associate Director and Canada Research Chair in Global Adversity and Well-Being Bree Akesson and CRSP Strategic Community Research Liaison James Popham, who works in the field of community-based knowledge development and cybercrime.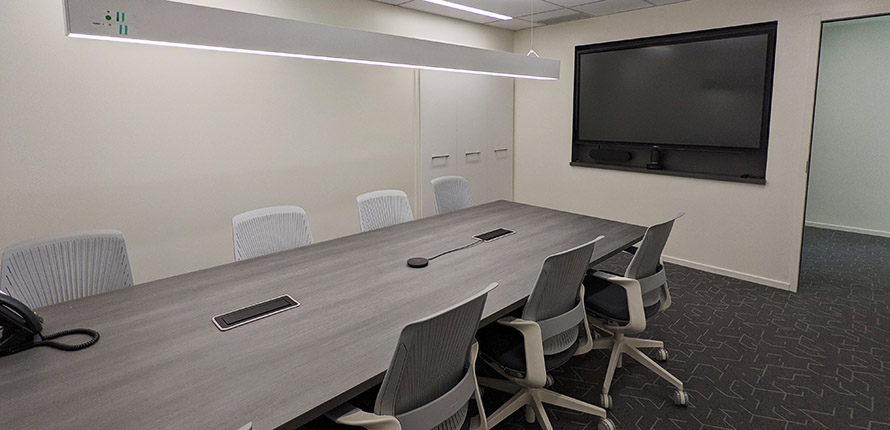 "We are interested in investigating what it means for people to feel secure," says Sanders. "What practices are done at local and national levels to enhance people's feelings of security yet may paradoxically make people feel less safe or surveilled?"
The centre's new space was designed to support the work of its members. Its multipurpose rooms include a large meeting room (affectionately known as the "Collaboratory"), private hotelling desks for students, office space for visiting faculty members, a kitchenette and a row of high, window-side desks facing out onto the campus courtyard.
"The work station overlooking the Research and Academic Centre is such an open and invigorating spot," says Sanders. "I get excited when I'm walking on campus and see graduate students sitting up there, working on their computers and waving out at me. It's such a nice feeling because that was one of our goals for the centre: to provide a safe space for intellectual thought, debate and engagement."
CRSP is also home to the Craft of Intelligence Analysis Lab, a custom-built laboratory to facilitate Sanders' police intelligence research. With funding from the Canada Foundation for Innovation's John R. Evans Leaders Fund, Sanders is using state-of-the-art technology to investigate the subjective and interpretive processes that shape the production of police intelligence.
"In the wake of calls to defund the police and improve police accountability, police services are increasingly turning to advanced technologies to help make decisions around staffing and resource allocation," says Sanders. "There is a lot of faith put into these technologies, as algorithms are perceived to be objective and to remove human bias from police decision-making. My research looks at how police intelligence is socially and technologically constructed. We know that criminal justice data is racially biased, so if police are using that as their data to build intelligence products, then they risk technologically augmenting racial disparities in crime data."
The Craft of Intelligence Analysis Lab was built to simulate real intelligence departments and has been outfitted with the same technology that analysts use in their everyday jobs. It is also equipped with an observation room, microphones and high-resolution cameras which enable Sanders' research team to closely observe and record analysts as they work. It is the first laboratory of its kind in Canada.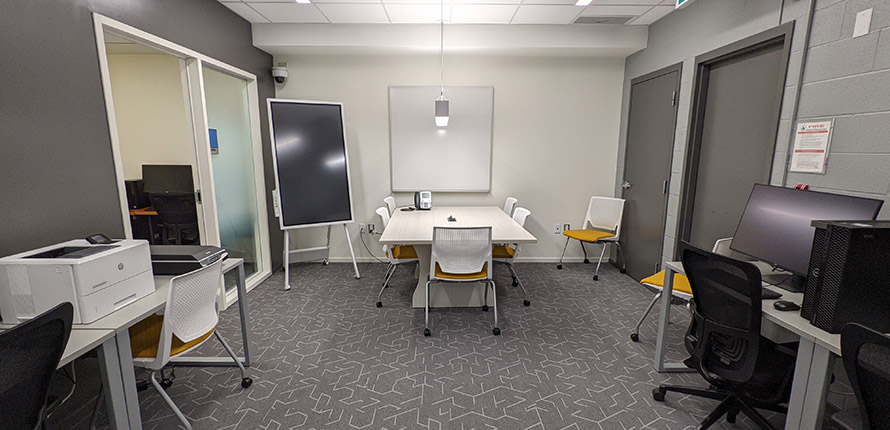 Sanders plans to bring in present and former intelligence analysts and give them scenarios that require them to build intelligence products, such as social network analyses or a "heat list" identifying people of concern. The analysts will be observed and recorded throughout their development process, right down to the keys they tap on the keyboards.
"We are trying to uncover their thought processes, the subjective and interpretive pieces that shape the production of police intelligence but go unnoticed," says Sanders. "Our hope is that our research can identify ways in which we can improve the training of not only analysts, but also police officers. Further, we hope this research will facilitate the creation of appropriate legal, policy and oversight practices that ward off technological overreach."
Sanders says that the lab and its technology can also be used by CRSP members to facilitate other types of research studies, such as interactional and observational analyses, focus group interviews and place-based analyses. She is thrilled to have a home base to continue fostering a vibrant Laurier research culture.
"We are finding so many ways in which our work overlaps with other colleagues, whether in Brantford or Kitchener or Waterloo," says Sanders. "There are a lot of scholars doing great work that we haven't been able to connect with yet, and I'm hoping that as they become more aware of the work going at CRSP, we will foster new connections."