Selda Sezen is dedicated to creating a thriving campus community at Wilfrid Laurier University, where students from all faith backgrounds feel welcome and supported. 
As a Muslim woman and former student, Sezen understands the experiences and needs of students facing systemic barriers. It's an understanding that serves her well in her roles as a university chaplain, member of Laurier's multi-faith resource team, and adjunct faculty member at Martin Luther University College. 
Below, Sezen discusses her inspiration for pursuing a career in spiritual care and psychotherapy, how she supports members of the Laurier community in her role as a chaplain, and what she hopes Islamic Heritage Month activities, which recently concluded, will inspire. 
What do you do in your role as Laurier's Muslim chaplain?  
As a chaplain, I assist students, staff, and faculty in their effort to explore, research, and discuss spiritual issues and provide spiritual care to members of Laurier's campus communities. I provide a safe, brave, and judgment-free space to talk about any issues related to spirituality and the on-campus experience. I often act as a bridge between students and other services on our campus, as some students might have reservations about using campus resources due to fear of Islamophobia, cultural sensitivities, past traumas, unfavorable views toward faith communities in the media, or systemic inequities in society.   
Photo: Sezen and Laurier students gather for coffee and conversation.
I support Laurier community members in many ways, including offering Individual sessions, workshops, educational training, and various groups on topics such as self-exploration, spiritual wellness, friendships, and healing. My door is open to everyone, and I meet people where they are. Some days, we have theological conversations over coffee or tea, some days we talk about faith and spirituality without naming any religion or God, and some days I am just present with them. In my experience, students find these conversations very helpful in their social, emotional, and psychological wellness. 
I also work with the Centre for Student Equity, Diversity and Inclusion and Laurier's multi-faith resource team to advise on religious and cultural celebrations and accommodations, which can impact students' academic success and well-being.  
Why is it important for institutions such as Laurier to make spiritual care available to faculty, staff, and students?  
For me, spiritual wellness is a significant element of holistic care and an essential component of whole-person wellness. I am glad that Laurier offers services and creates opportunities to care for the whole personality of students and staff. Providing spiritual care and space in educational settings is important as it contributes to the creation of a healthy environment for those who are going to become this country's future. The Laurier community is diverse and growing; it is important to recognize this on our campuses and provide appropriate services so that everyone feels safe, welcomed, and supported. 
How does your role contribute to a thriving community at Laurier?  
As humans, we are more than just physical bodies. We are hearts and minds – complex beings – and our complex needs require a holistic approach. When spirituality is central to someone's life, it informs who they are and what guides how they live. For some, spiritual struggles can adversely affect their psychological, social, physical, and academic wellness. So, caring for a community member's spirituality is caring for the whole person. We want Laurier community members to be well and succeed in all areas of their lives. My role supports individuals and the Laurier community to explore and use spiritual resources to overcome challenges during their academics or careers.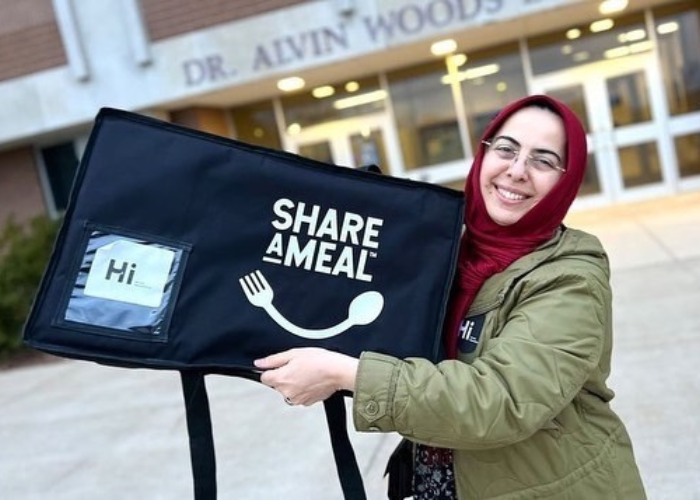 Photo: Sezen receives Iftar meals donated to students during Ramadan.
What inspired you to become a chaplain?  
When I was pursuing a master's degree as a mature student and person of faith at Laurier, I was looking for a community to engage with. Throughout the year, I did get to know people – friends and classmates. Some students saw me as a role model. They would come to me for guidance, coaching, and mentorship in small group settings or one on one.  
During my clinical doctoral internship as a spiritual care provider and psychotherapist at the Delton Glebe Counselling Center, I had a chance to meet with many students who needed spiritual support and culturally sensitive counselling. Gradually, I created communities where marginalized individuals felt safe and welcomed.  
What 'lights you up' about your work? 
Developing a sense of belonging and security at Laurier and in the broader community is significant for me. Creating equal opportunities for our students and providing them with safe spaces where they develop a healthy sense of identity is fulfilling as well. It cheers me up when students have a sense of home at Laurier and receive holistic care and support on campus. I feel recharged when I see Laurier's diverse community members communicating and connecting with each other.  
I often receive messages from the families of international students expressing gratitude for things like Iftar meals and Eid celebrations that I organize for those who celebrate. Some families visit me when they come to Canada to see their children. They are happy to know their children are taken care of while at Laurier.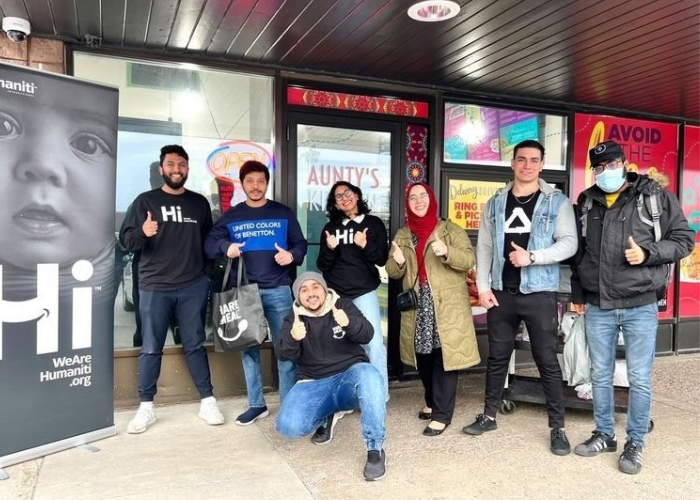 Photo: Sezen and students give charitable initiatives 'two thumbs up.'
As a chaplain, you care for the spiritual well-being of others. How do you care for your spirituality? How do you recharge when things feel heavy?  
I believe in the healing power of a healthy, connected community. Meaningful social engagements are vital for wellness. I am well-connected with Muslim and non-Muslim, spiritual and non-spiritual communities in Kitchener-Waterloo that help me care for my well-being. I am also grateful for the support my husband – also a social worker and chaplain – provides in my personal life.  
Group and individual reflection practice support my well-being, too. Other forms of personal self-care include cooking, spending time in nature, Zumba, and step classes. I also enjoy Ebru art, a traditional Islamic art form that evokes mindfulness. It is very soothing. And, of course, staying in contact with young minds and souls, and witnessing their accomplishments really boost me up.  
What do you want Laurier community members from other faith backgrounds to know about Islamic Heritage Month? 
Islamic Heritage Month honours the cultural, linguistic, and theological experiences and contributions of of the diverse Muslim communities in Canada. The Islamic Heritage Month activities at Laurier were designed to create a community where can get to know each other and promote social cohesion to overcome any barriers in our internal and external communities. Respectful and meaningful engagements allow for rich cross-cultural experiences that help us grow.