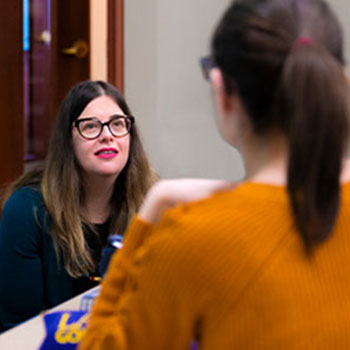 Social Work (MSW)

 kitchener | Also available online
Print | PDF
Faculty of Social work  |  Faculty of Graduate and Postdoctoral Studies
Integrative Reflexive Social Work Practices
The new Master of Social Work (MSW) curriculum is designed to be at the cutting edge of contemporary social work practice. Two years of planning and consultation with stakeholders have transformed our program vision and delivery.
Our curriculum emphasizes the development of critically reflexive practice skills through the ongoing integration of knowledge, theory and practice within a framework that promotes the advancement of equity, inclusivity, reflexivity and social justice. It is our anticipation that graduates of our program will walk alongside those with whom they work, in collaborative, inclusive, reflexive and caring ways and that they will stand up for what they believe is just.
Digital Viewbooks
Download our digital viewbooks to get information about programs in the Faculty of Social Work.
MSW Online Part-Time Program
Visit our online MSW website for more information and to connect with an advisor.  
MSW Program Information Sessions
Learn about the MSW programs offered at the Lyle S. Hallman Faculty of Social Work. Join a presentation organized by various team members of the faculty to learn about the requirements for admission, program details, student experience opportunities, and field placements, among other topics. At the end of the presentation, there will be a Q&A to answer any questions that you have about the program offerings at Laurier. 
Please check back in early September for our Fall information session dates.
Please refer to the Indigenous Field of Study page for IFS specific Information Session dates and registration.
Are You an International Student? 
More information can be found on the International Applicants page.